Falling in Love Online: Grad School Edition
by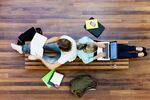 He tells people they met online. She says they met in graduate school. They're both right.
Raffaele Giarnella and Jessica Perry first noticed each other on a video chat platform they had each paid about $100,000 to access. They were in accounting class, earning their first credits toward an MBA the University of North Carolina's Kenan-Flagler Business School delivered entirely online. Perry lived in Orange County, Calif., and Giarnella in Durham, N.C., but they noticed each other immediately and eventually pursued a long-distance relationship. "By the time the second class came around, I was absolutely smitten," Giarnella says.

That the relationship transitioned from the screen into real life isn't just significant for the couple. It's a sign that Kenan-Flagler may have overcome one of online education's biggest obstacles: re-creating the personal engagement that comes with in-person interaction.
The multibillion-dollar online education industry is watching examples like these as it tests its latest innovation: getting people to pay for virtual school. Briefly, it seemed that massive open online courses, which make a la carte instruction available for free to anyone who wants to enroll, were the future of higher education. But the speed and power of the MOOC backlash almost matched the initial enthusiasm for the classes. They weren't making money, and what's more, many argued, they didn't work. MOOCs have a high failure rate in part because it's hard to wrangle the same kind of commitment from someone via an Internet connection as you can when they're in the room.
Some universities are shifting their online strategy from giving away education for free to charging students for the right to get an advanced degree from the comfort of their bedroom. Companies such as 2U are happy to help. In addition to providing the technology for Kenan-Flagler's program, 2U also supports 17 degree-granting online programs at universities like Georgetown, University of California at Berkeley, and Syracuse. Udacity, the company founded by Sebastian Thrun, once known as the high priest of MOOCs, is moving in the same direction. The company started offering a $6,600 computer science master's through Georgia Tech this year. Novoed, a startup that began by powering MOOCs and other online classroom aids at Stanford, announced last month a $16,000 entirely online executive MBA through Stanford's Graduate School of Business.
The challenge for these schools, and the companies powering their online experiments, is giving students value that warrants a price tag in the tens of thousands. "True learning only happens experientially," says Amin Saberi, the co-founder of Novoed. "It's very important that when we transition to more education online we don't strip away the social, experiential, and collaborative aspects of it. Those are the most important."
That type of interaction seems to be happening at Kenan-Flagler's online program. Students attend at least two mandatory meetings with each other each year at different cities across the globe, to facilitate the schmoozing that occupies a typical business school student's life. Between courses, classmates can set up one-on-one video chats, and sometimes they hold impromptu Friday happy hours: Everyone drinks a beer in front of their computer screens, their faces framed in boxes within a grid, Brady Bunch-style.
Kenan-Flagler's numbers also suggest that students value the experience. Their retention rate is over 96 percent, and at around 600 students, its class is larger than UNC's on-campus MBA program. The first class that graduated from the program gave themselves a nickname—"019"—and donated $25,000 to put the moniker on a physical classroom on Kenan-Flagler's campus. The gift was the largest made by any class in the history of the MBA program—until the third group of online-only graduates, who donated about $90,000 to the school.
And then, of course, there's Giarnella and Perry's relationship, as good a data point as any to support the idea that an online classroom can mirror the dynamics of a real one.

The two started dating in the spring, after flirting in texts, e-mails, and the occasional video chat for most of their time at Kenan-Flagler. Perry says they'll be able to show their kids the moment they met: a recording of their first class together. "He jokes that when we have a kid, their middle name needs to be the @ sign," she says. "I'm like, 'I don't think that's legal.'"
Before it's here, it's on the Bloomberg Terminal.
LEARN MORE