Actavis Said Near $62.5 Billion Deal for Allergan
David Welch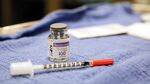 Actavis Plc is close to a deal to buy Allergan Inc. for more than $64 billion, a transaction that would help the maker of Botox rebuff a hostile advance from Valeant Pharmaceuticals International Inc., said people with knowledge of the matter.
A deal may be announced as soon as today, said the people, who asked not to be named because the information is private. Actavis will pay more than $215 a share in cash and stock for Allergan, one of the people said, a bid that includes a higher percentage of cash than Valeant's current offer. The breakup fee is about $2 billion, another person said.
The companies had been trying to narrow a gap of about $3 billion between what Actavis wanted to pay and what Allergan was asking, people familiar with the situation said last week. Allergan was seeking more than $210 a share while Actavis wanted to pay closer to $200. The boards of both companies planned to meet last night on the deal, one of the people said.
Irvine, California-based Allergan rose 1.2 percent to $198.65 at the close in New York on Nov. 14, giving the company a market value of about $59.2 billion. Actavis closed at $243.77 last week, for a market value of about $65 billion.
A deal with Actavis will provide Allergan's shareholders an alternative to Valeant, which has said it's willing to pay at least $200 a share and has the backing of Allergan's largest shareholder - activist investor Bill Ackman's Pershing Square Capital Management LP.
David Belian, a spokesman for Actavis, didn't respond to requests for comment. Bonnie Jacobs, a spokeswoman for Allergan, didn't respond to a call and e-mail requesting comment. Reuters reported previously that Actavis may pay $215 to $220 a share for Allergan.
Stock Price
Part of Valeant's promise to increase its bid to at least $200 a share depended on an anticipated increase in its stock price, the company said in a letter to Allergan's board last month.
In resisting Valeant, Allergan has described its offer as "grossly inadequate" and argued the Canadian company will gut its research and development budget and use its cash flow to pay down debt accumulated from previous acquisitions.
Allergan is trying to strike a deal before an investor meeting on Dec. 18, the people said last week. That's when shareholders will vote on Valeant and Ackman's proposal to remove Allergan directors, with a plan to eventually replace them with those who are more amenable to Valeant's offer.
Valeant Counterbid?
Valeant could probably raise enough money to match an offer of $210 a share, but won't do it because it would leave the company with more debt than its managers want, according to another person with knowledge of the matter. A representative for Valeant didn't immediately respond to requests for comment outside regular business hours.
Actavis, which makes generic drugs and products like Alzheimer's treatment Namenda, first approached Allergan about a takeover in August, a person familiar with the matter has said, and talks between the two companies recently restarted.
The disclosure earlier this month that Allergan was in talks with a third party prompted Ackman to call on the company to run an auction.
"Now that the company is seriously considering a sale, it is incumbent upon the board to maximize shareholder value by running a sale process that will generate the highest value," Ackman said in a letter to Allergan's board.
Ackman's Gains
Ackman acquired about 9.7 percent of Allergan, mostly in stock options, for about $3.22 billion, according to an April 21 regulatory filing. At $215 a share, that stake is worth more than $6 billion.
Valeant, too, would be rewarded even as the losing bidder: the Canadian company is due 15 percent of Pershing Square's net profits if it loses the bid for Allergan to another company, the filing shows.
Valeant set the low end of the bidding at about $200 a share when the company said on Oct. 27 that it is willing to bump its cash and stock offer -- currently valued at about $180 a share -- to that amount.
It has said it's seeking to buy Allergan to expand its portfolio and become one of the world's largest drugmakers. Pershing Square acquired its Allergan stake after learning of Valeant's intention to make a bid, and Allergan has accused Ackman of violating insider-trading rules.
It unsuccessfully sued to stop him from voting his shares in the Dec. 18 meeting. Ackman has said that he welcomes a review by the Securities and Exchange Commission of Pershing Square's tactics and that it did nothing wrong -- acting as a co-buyer, alongside Valeant.
Before it's here, it's on the Bloomberg Terminal.
LEARN MORE