Petrobras Won't Stop Because of Scandal: Brazil Minister
Blake Schmidt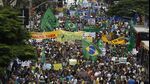 Arrests tied to a bribery scandal involving contracts with state-run oil producer Petroleo Brasileiro SA can't halt the company's work, Brazil Justice Minister Jose Eduardo Cardozo said.
Cardozo said the government hasn't created obstacles to the investigation and rejected attempts to politicize the probe "by those who still think we are disputing elections." He said he will talk with Petrobras Chief Executive Officer Maria Graca Foster to review contracts that are targets of the investigation.
About 10,000 people gathered today on Sao Paulo's main street, with protesters calling for President Dilma Rousseff's impeachment three weeks after she was re-elected. Some held signs denouncing the corruption scandal and her Worker Party's grip on power.
"Petrobras will not stop," Cardozo said in televised comments from Sao Paulo. "On one hand the investigation is going to continue; on the other hand Petrobras cannot stop."
Police found "strong evidence" that at least seven construction companies formed a cartel to win public contracts, including a combined 59 billion reais ($23 billion) in orders from Petrobras, officers including Commissioner Igor Romario de Paula said yesterday in Curitiba, where the case is before a judge. They declined to name the alleged cartel members.
An unidentified aide to Rousseff, who was chairwoman of Petrobras from 2003 to 2010, said her administration is concerned the probe may "paralyze" some company operations, the daily Folha reported.
The Petrobras press office didn't immediately respond to a request for comment.
Earnings Delayed
PricewaterhouseCoopers, the company's outside auditors, said last month it wouldn't sign off on financial results and would alert U.S. authorities if appropriate action wasn't taken to probe the allegations, according to two people with knowledge of the matter. Petrobras said it would delay releasing its earnings for a month.
Cardozo said police have detained 19 people in the case, without giving names. He said he called Rousseff to inform her about the investigation. The president is in Australia at the G-20 summit.
Police have carried out four of six preventive arrest orders and 15 of 19 temporary arrest orders, Cardozo said without elaborating. Following Cardozo's comments, two executives from Camargo Correa SA turned themselves in to police in Sao Paulo, according to Globo News.
Money Laundering
The multibillion-dollar money laundering and corruption scandal dubbed Car Wash spread to Petrobras earlier this year after investigators uncovered ties between Paulo Roberto Costa, the company's former head of refining, and a black-market money dealer.
Costa, who is under house arrest as part of a plea bargain with prosecutors, later told police he received bribes from a group of construction companies and shared the proceeds with politicians who are part of the ruling coalition. Parties in the coalition and building companies denied the allegations.
Cardozo ordered the federal police to open an internal investigation into the behavior of officers on the case who praised opposition candidate Aecio Neves on social media and criticized Rousseff ahead of last month's presidential election, which she narrowly won, the daily Estado reported on Nov. 13.
Neves, who criticized Petrobras' management under Rousseff during the campaign, said in televised comments in Sao Paulo yesterday that the investigation "is leaving many people in Brasilia without any sleep."
Impeachment Calls
Some protesters in Sao Paulo today held flags calling for a military intervention to remove Rousseff from power. Protesters also gathered in smaller numbers in Rio de Janeiro today, on the anniversary of the overthrow of Brazilian monarch Dom Pedro II in 1889.
Police have issued 27 arrest warrants, including for top executives from builders Camargo Correa, Mendes Junior Engenharia SA and Construtora OAS Ltda, and undertook 11 searches at the offices of companies including Odebrecht SA and Queiroz Galvao SA, according to police and judiciary statements today. Galvao Engenharia SA and UTC Engenharia SA also had their offices searched, according to the statements.
Mendes Junior, OAS, Galvao Engenharia and UTC said in e-mailed statements yesterday that they are cooperating with the investigation. Camargo Correa said it "condemns" the warrants, given it has been working with authorities to clarify the facts.
Odebrecht said in an e-mail that the police searched for documents related to Petrobras at its offices in Rio de Janeiro today, without making arrests. Queiroz Galvao said all its contracts are within the law.
Before it's here, it's on the Bloomberg Terminal.
LEARN MORE