Ryan Budget Debate Takes New Turn After Republican Takeover
Republican budget cuts failed to gain traction as attacks in the midterms because they weren't real. Next year, they could be.
By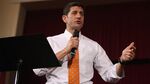 "The Ryan budget." Them's fightin' words. Democrats have long railed against the Republican blueprint by Mitt Romney's 2012 running mate, but they never really had to worry about stopping it. They may have to take it a little more seriously, now that Republicans have won control of the U.S. Senate and still hold the House. But if they play their cards better than they did in this year's midterm elections, this may just give them a renewed line of attack for 2016.

The House keeps passing Ryan budgets each year but so long as Democrats controlled the Senate, the proposals never really stood a chance of implementation, or debate, or even headline-grabbing veto threats. The last version of the plan by Budget Committee Chairman Paul Ryan of Wisconsin passed in April. It advocated about $5 trillion in federal spending cuts over a decade by revamping and constraining the growth of Medicare, and cutting healthcare, food stamps, education and farm spending. While Americans like concepts such as fiscal responsibility, polls since 2012 suggested there could be a backlash to aspects of Ryan's plans, especially to fiddling with Medicare.
Representative Chris Van Hollen of Maryland, the top Democrat on the House Budget Committee, said in an interview Friday that when budget season rolls around early next year, "it's kind of hard for Republicans in Congress to turn to their voters and say, 'You know that Ryan Republican budget we always pushed for? We weren't really serious.' So I think there will be tremendous pressure for Republicans to pass a virtually identical version, and with Republicans in control of the Senate it's hard to see how they duck that issue. Bottom line is, they're now firing with real budget bullets and I do believe their budget does great harm to lots of people in this country. It's going to be a wake-up call to the public." 
Some of the key areas of partisan contention in any upcoming budget debate:
Medicare
Ryan's plan shifted Medicare, which provides health services to seniors, to a premium support model. It assumed the creation of an insurance exchange in 2024 where seniors could purchase insurance. Those who enrolled in the Medicare program before 2024 would have entered the existing fee-for-service model. Under that new system, seniors would choose between purchasing a private plan through the exchange or traditional fee-for-service Medicare. Seniors would receive subsidies to offset the cost of purchasing private coverage through the exchange. The plan would also institute means testing within Medicare programs, whereby wealthier seniors would receive a lower subsidy amount and low-income seniors would receive more. Insurers offering coverage through the Medicare exchange would have to offer insurance to all beneficiaries choosing to enroll in a private plan. The plan also assumes that the retirement age for Medicare would be increased to match the current Social Security retirement age of 67. Democrats have used the proposal in recent campaigns to accuse Republicans of undermining a promise to America's seniors and especially hurting those of modest means.
Medicaid
The House Republican budget plan would have turned food stamps and Medicaid health care for the poor into block-grant programs to the states. Those programs are part of a war on poverty that Ryan has called a failure and said should be turned over to greater state control. Democrats have hammered the proposal as an attempt to balance the budget on the backs of the poor, while not asking the wealthy to do more.
Education
The Ryan budget called for capping college Pell grant awards at $5,730 in each year of the 10-year budget window and funding the aid through discretionary appropriations. Eligibility for students attending less than half-time would be eliminated and the plan encouraged House committees to consider a maximum-income threshold for grants. Democrats have argued such changes would limit access to higher education for some.
Defense
The automatic budget cuts approved by Congress tweak the calculations here, but Ryan's budget tilted toward national security over other federal spending. Domestic programs would have been reduced by $791 billion from fiscal 2016 to 2024, while defense spending would be $483 billion more than envisioned under current law.
Some analysts think Congress isn't much likelier next year to send Ryan's ideas to President Barack Obama—in part because a majority of the senators up for re-election in 2016 are Republicans and many of them represent states that voted for Obama in 2008 and 2012. "Big cuts in Medicare? Health research? You're asking them to do a lot of things that would be politically difficult for them," said Stan Collender, a former congressional budget staff member and executive vice president at Qorvis MSLGroup. "The House will certainly pass something similar to the Ryan budget, but the Senate may not be able to."
Even if incoming Majority Leader Mitch McConnell of Kentucky can round up 51 votes, Collender said, Obama can still veto tax and spending bills, and lawmakers likely would not have the 60 votes to override him. Meanwhile, he said, Democrats might relish the debate as they look to the 2016 races in the Senate and for president because "then they've got an issue" to campaign on against Republicans. Jared Bernstein, former economic adviser to Vice President Joe Biden and a senior fellow at the Center on Budget and Policy Priorities, is not a fan of the Ryan plan, which he calls "a Robin Hood-in-reverse kind of budget." Said Bernstein, "As long as president Obama holds the veto pen, the Ryan budget as we know it will not become law." 
But Van Hollen said he doesn't dismiss the effort. "You can use the budget process to create a budget reconciliation package that allows any other legislation under that umbrella to pass the Senate with 51 votes," he said. "The president can veto any of that legislation. But it is is very different scenario next year than this year. Republicans can pass lots of legislation under the umbrella of budget reconciliation. In the past, people have maybe dismissed it because it didn't have a chance of getting through the Senate. Now it has a real chance."
Democrats did selectively try to use Republican budgeting efforts against them in the midterm election, but the tactic lacked bite because none of the cuts had actually happened or even come close to becoming a reality. A cursory search of ads yielded examples of Democrats referencing the Ryan budget—if not by name—or an even tougher budget alternative when running against a House Republicans who voted for one or both. An ad from Democratic Senator Mark Pryor's failed campaign against Representative Tom Cotton cited the Republican's votes for the Ryan budgets in 2013 and 2014. A woman in the spot said Cotton would have given "billionaires huge tax breaks."
In Louisiana, Democratic Senator Mary Landrieu is running an ad in her runoff campaign that attacks Representative Bill Cassidy's vote for the Republican Study Committee's alternative to the Ryan plan. A narrator says that vote is tantamount to cutting Social Security benefits and giving tax breaks to millionaires.
A deal last year to set federal spending levels into 2015, an accord struck by Ryan and Senate Budget Committee Chairman Patty Murray of Washington, delayed the need for a Democratic alternative to  the GOP plan. Ryan's now seeking the chairmanship of the tax-writing House Ways and Means Committee, with Representative Tom Price of Georgia to take over the budget panel; still, Ryan's plans are will live on in the House, especially since some will fall under the jurisdiction of his new committee. And Jeff Sessions, the Alabama Republican expected to take over the Senate Budget Committee, has raised the prospect of Social Security-related legislation, another prime target for Democratic attack ads.

— Greg Giroux, Derek Wallbank and John McCormick contributed to this report.