politics
The Latest #Grubergate Video Could Rattle Vermont's Single-Payer Health Care Experiment
Another day, another Gruber video.
By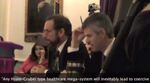 The hunt for damaging videos of Jonathan Gruber has gained momentum all week. Rich Weinstein's scoop of Gruber discussing the passage of the Affordable Care Act was so rich with themes, so attackable, that any old clip of Gruber seeming to dismiss the intelligence of critics is now fair game. Yesterday, CNN found 2010 footage of Gruber arguing that "quite frankly the American public doesn't actually care that much about the uninsured," and that Democrats needed to be clever in how they sold the law. Today, Watchdog.org's Bruce Parker has produced more recent footage, from 2011, of Gruber laughing off a criticism of Vermont's plan to use the ACA as a ramp to single-payer health care.
The latter video, shot by TrueNorthReports and left to molder on YouTube, captures the chairman of the Vermont House's health committee reading a "commentator" worry about single-payer.
"Any Hasio-Gruber type healthcare mega-system will inevitably lead to coercive mandates, ballooning costs, increased taxes, bureaucratic outrages, shabby facilities, disgruntled providers, long waiting lines, lower quality care, special interest nest-feathering, and destructive wage and price controls," says the legislator.
The roomful of spectators laugh at that. Gruber leans in with a joke: "Was this written by my adolescent children by any chance?"
According to Parker, the un-named commentator was actually a retired state senator. That's ironic: The reason this video stings is that Gruber is currently working for Vermont as a consultant helping to implement the state's health care plan. The governor's office confirmed to me that Gruber is still on the job; he's been consulting for the state, in one capacity or another, to the tune of $400,000. He joined a larger effort to produce studies for the state and confirm that single-payer would work.
"It will help us explain to people ... who would be winners and who would be losers," said Robin Lunge, director of Vermont's health care reform, in a July story in the Rutland Herald. "We're not thinking we're going to come out with a plan that's going to get rubber-stamped by anyone."
The state is halfway between the start of the single-payer process and its 2017 goal of one-state universal health care. Last week's elections were unexpectedly poor for Governor Peter Shumlin and his ruling Democrats. They saw their supermajority of 96 (of 150 total) House seats reduced to 84 and their Senate majority shrunk to 20 of 30 total seats. Shumlin saw his vote share fall below 50 percent, meaning the legislature will have to vote to give him another term. (It's all but certain to do so.)
Gruber's heretofore-unnoticed joke doesn't really stall the single-payer process. It just gives Vermont's minority Republicans, and conservative watchdogs, a new argument to make if the state stumbles. And it goes into the ever-growing brief of Gruber statements that could embolden five Supreme Court justices to rule against the ACA, and side with plaintiffs who argue that the subsidies that make the law workable were not intended for states that failed to set up exchanges. In the brief that Gruber filed in this current case, his colleagues cited his "sophisticated economic model that allows for a robust prediction of outcomes in the health care system, depending on various policy changes." That's the model he's now on video mocking some idiot state senator for doubting.
Before it's here, it's on the Bloomberg Terminal.
LEARN MORE