Putin, Rousseff Plunge in Bloomberg Poll While Modi Soars
Boris Korby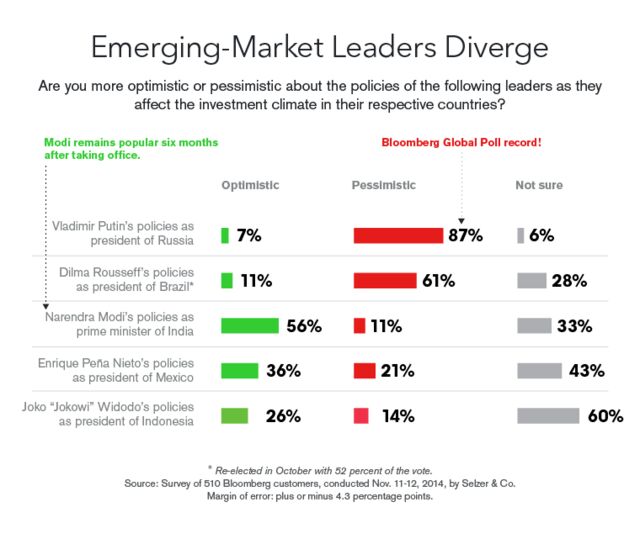 Three of the newest leaders in emerging markets are enjoying strong support among analysts and investors while two of the longer-standing figures plunged in popularity in a Bloomberg Global Poll.
Fifty-six percent of respondents in the latest survey said they are optimistic on the policies of Indian Prime Minister Narendra Modi, more than five times those who were pessimistic. Poll takers were supportive of Mexican President Enrique Pena Nieto and Indonesian president Joko Widodo's policies by almost two-to-one margins, according to the quarterly survey of 510 Bloomberg subscribers.
Those who view Russian President Vladimir Putin's policies unfavorably surged to 87 percent, the worst rating for any national leader since Bloomberg began the polls in 2009. Meanwhile, 61 percent of respondents had a pessimistic view of Brazilian President Dilma Rousseff's policies.
The poll was conducted Nov. 11-12 by Selzer & Co., a Des Moines, Iowa-based firm, and has a margin of error of plus or minus 4.3 percentage points.
Before it's here, it's on the Bloomberg Terminal.
LEARN MORE