German-French Rebound Helps Euro-Area Keep Expanding: Economy
Catherine Bosley and Alessandro Speciale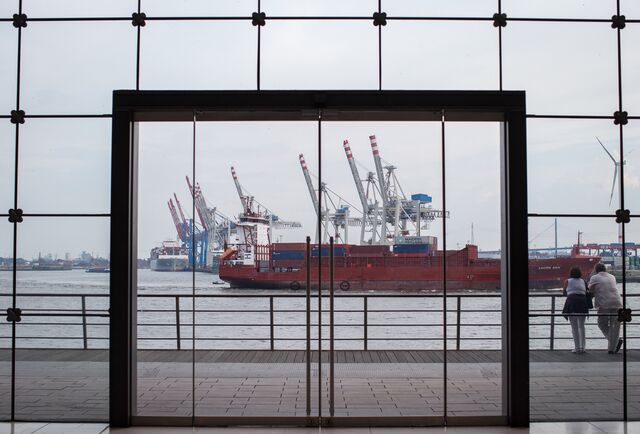 The euro-area economy grew faster than analysts forecast in the third quarter as Germany and France rebounded and Greece showed some signs of revival.
Gross domestic product increased 0.2 percent from the previous period, when it rose 0.1 percent, Eurostat, the European Union's statistics office in Luxembourg, said today. That's more than the median of 39 estimates in a Bloomberg News survey for 0.1 percent.
The euro area's recovery has been in peril since economic malaise transferred from once crisis-stricken nations such as Spain and Ireland to countries in the region's core. With inflation close to the lowest level in five years, the European Central Bank is preparing to add to unprecedented stimulus and urged governments to invest and deliver structural reforms to support growth.
"We see a picture confirming an outlook of weak growth but with limited risks of a relapse into recession," said Marco Valli, chief euro-area economist at UniCredit Global Research in Milan. "Some sentiment indicators show signs of stabilizing."
The euro slipped 0.3 percent to $1.2444 at 12:50 p.m. Frankfurt time. The Stoxx Europe 600 Index was down 0.6 percent.
Country Breakdown
Germany and France, the euro area's two largest economies returned to growth in the third quarter, with expansions of 0.1 percent and 0.3 percent, respectively. Italy remained a weak spot, shrinking for a second quarter. Cyprus was the only other member of the currency bloc to register a quarterly contraction.
Greece, where a six-year recession wiped 25 percent off GDP and protests against austerity measures jeopardized the country's membership of the currency bloc, recorded quarterly growth of 0.7 percent in the three months through September, the third consecutive increase in output. The data may help Prime Minister Antonis Samaras as he pushes Greece to follow Ireland, Portugal and Spain out of its rescue program.
The Frankfurt-based ECB has already unleashed a barrage of unconventional measures, including a negative deposit rate, long-term loans and asset purchases, to boost growth and inflation. President Mario Draghi said last week that policy makers commissioned proposals for fresh stimulus, stoking speculation the central bank is moving closer to sovereign quantitative easing.
Stimulus Debate
"The discussion about further monetary policy measures is justified, and we expect Mr. Draghi will gain the upper hand," said Karsten Junius, chief economist at Bank J. Safra Sarasin AG in Zurich, referring to the debate on the Governing Council on more stimulus.
The ECB, which forecasts growth of 0.9 percent this year and 1.6 percent in 2015, last week endorsed weaker projections such as those by the European Commission that foresee expansions of 0.8 percent and 1.1 percent, respectively. The central bank will publish its own updated outlook next month.
"Monetary policy has done and will continue to do its part," Draghi said in Rome on Nov. 12. But even if combined with a fiscal policy, it is "not enough to generate a revival of strong and sustainable growth without the necessary structural reforms," he said.
While some support to growth may have come from the euro, down almost 11 percent since early May, and oil prices, which have fallen more than 25 percent in the same period, sanctions against Russia over its involvement in Ukraine have damped exports. EON SE, Germany's biggest utility, reported a wider third-quarter loss than last year, as a weaker ruble crimped earnings from Russia and power prices declined.
Suit-maker Hugo Boss AG trimmed targets for the year, citing a "substantial slowdown" in Europe, with demand declining in October and November, while Unilever reported the slowest quarterly sales growth since 2009.
"We remain optimistic that the euro zone can shake off the latest economic rough patch," said Christian Schulz, senior economist at Berenberg Bank in London. "Once external risks like Russia have faded from businesses' minds and the downward spiral in business confidence has ended, Germany can rebound quickly and resume its leadership role in the euro zone."
Before it's here, it's on the Bloomberg Terminal.
LEARN MORE