Biden Promises Refugee Status to Central American Minors
Angela Greiling Keane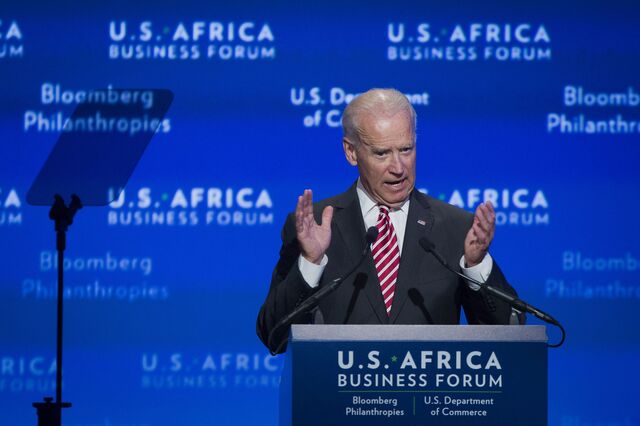 The U.S. will offer refugee status to some undocumented youths from three Central American countries, Vice President Joe Biden said, as the administration weighs a broader revamp of federal immigration policy.
The move modifies a program that now lets as many as 4,000 people a year from Cuba and Colombia seek refugee status when coming to the U.S. The change would allow people under age 21 from El Salvador, Guatemala and Honduras to be eligible, Biden said today. It would apply only to people not already in the U.S. who have a parent in the U.S. legally, he said.
"It provides those seeking asylum a 'right way' to come to our country, as opposed to crossing the border illegally." Biden said at the Inter-American Development Bank in Washington.
The change, which immigration groups said wouldn't help most Central American children, was sparked by about 68,000 unaccompanied minors -- mostly from those three Central American countries -- who arrived in the U.S. without documentation earlier this year. The influx drew attention to how the U.S. was handling the young people arriving without their parents and to the root troubles in their homelands that were driving them out.
"It's a small gesture," said Daniel Kowalski, an immigration attorney in Austin, Texas, and a member of the board of the National Immigration Law Center in Los Angeles. The president is "making it seem as if he's a little bit compassionate but if he really wanted to show them compassion he wouldn't lock them up the first place" and would grant many more children refugee status without strict conditions.
'Vulnerable Kids'
Because the offer applies only to people with parents living lawfully in the U.S., it won't help most kids who need it, said Jennifer Podkul, senior program officer at the Women's Refugee Commission in Washington.
"Some of the most vulnerable kids have parents who don't have legal status in the U.S.," she said. "It's a good first step but it's not going to be panacea for this problem."
The vice president held a lunch today in Washington with Guatemala President Otto Perez Molina, Honduras President Juan Orlando Hernandez and El Salvador President Salvador Sanchez Ceren. President Barack Obama is in Australia to attend the Group of 20 summit.
"The program will provide a safe, legal, and orderly alternative to the dangerous journey that some children make -- and some children don't ever arrive, don't ever make," Biden said.
Tax Rates
Biden, who traveled to Central America in June as the unaccompanied minor crisis escalated, also called today on Central American countries to raise their tax rates so they have more of their own government money to spend.
The Central American presidents brought a proposal to boost economic growth and reduce violence in their countries. Under their plan, unveiled at the bank, they are seeking to increase foreign investment by enhancing border security and trade infrastructure.
Biden made the announcement as Obama readies a plan that would allow as many as 5 million undocumented immigrants remain in the U.S. in an executive order that would change enforcement of immigration rules.
Republican lawmakers have criticized Obama's executive action plan, saying it will alienate him from working with them next year when Republicans control both chambers of Congress.
Obama's Plans
House Judiciary Committee Chairman Bob Goodlatte, a Virginia Republican, said in an e-mailed statement that today's announcement is "simply a government-sanctioned border surge."
Obama, who postponed executive action on immigration reform earlier this year until after last week's elections, plans to announce changes to allow more undocumented immigrants to stay in the U.S., according to people familiar with the administration's plans. He has said he will act even if Congress doesn't because anything he does through executive action could later be rolled back if Congress passes a bill.
The program announced today will begin in December with Obama not allocating any additional funding for it. Applications will be processed in the countries where prospective refugees live rather than the U.S. finding ways to house undocumented immigrants once they arrive at the border.
The three presidents met with Obama in Washington in July, asking the U.S. president for help with economic development and security. Obama told them they shared responsibility for stopping the wave of children fleeing to the U.S.
The State Department said it expects "a relatively small number of children from Central America" will enter the U.S. as refugees in the 2015 fiscal year that ends Sept. 30 as the program begins. If there's a deluge of applications, "there is some flexibility" in the program "to accommodate a higher than anticipated number from Latin America" in the 2015 fiscal year, the State Department said without saying how high that number could go. The number of refugees from Cuba have been declining, leaving space in the program to add three more countries.
Before it's here, it's on the Bloomberg Terminal.
LEARN MORE