U.K. Adds One Job for Each Lost in Euro Area: Chart of the Day
Andrew Atkinson and Scott Hamilton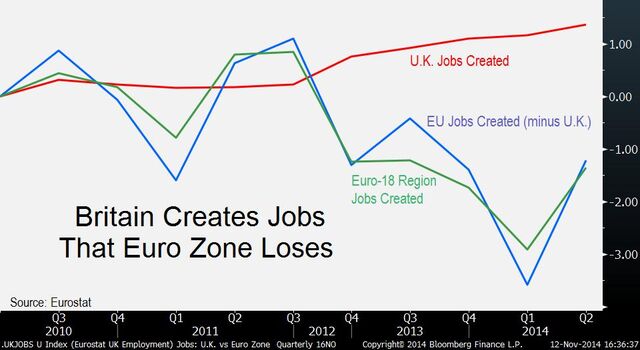 Britain has created as many jobs over the past four years as the euro region has lost, underlining the widening economic gulf with the country's biggest trading partner.
The CHART OF THE DAY shows working-age employment in the U.K. rose by 1.4 million to 29.4 million in the second quarter compared with the same period in 2010, based on data from the European Union statistics agency, Eurostat. In the 18 nations that share the euro, it dropped by 1.4 million to 138.7 million.
The specter of stagnation in the euro area prompted Bank of England Governor Mark Carney to lower U.K. growth and inflation forecasts yesterday. With a general election in six months, Prime Minister David Cameron is also using the divergence to highlight the performance of the British economy and explain to voters why he is struggling to cut immigration from the EU.
"We're going to find over the next few years unemployment in the euro zone remains high," said Peter Dixon, an economist at Commerzbank AG in London. "I can't imagine we're going to get the same kind of decline in the unemployment rate as we've seen in the U.K. because the labor laws will probably prevent many of these economies creating the kind of jobs that the U.K. has created."
The poor record of work creation in the euro area is largely due to crisis-stricken countries such as Spain, Portugal, Italy and Greece. Spain, whose construction boom drove EU employment growth before the financial crash, has lost almost 1.4 million jobs in the past four years, according to Eurostat. Only Germany has created more jobs than Britain, adding almost 1.7 million.
For Cameron, the influx of EU citizens seeking work in the U.K. has become a key political issue as his Conservatives lose votes to the anti-EU United Kingdom Independence Party. Total net migration to the U.K. surged to 243,000 in the year through March, leaving his pledge to reduce it to below 100,000 by 2015 in tatters.
Before it's here, it's on the Bloomberg Terminal.
LEARN MORE