Obama Visits Myanmar, a Success Story That Has Soured
By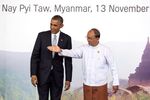 Two years ago, Barack Obama became the first American president to visit Myanmar, the Southeast Asian nation formerly known as Burma. The visit was a vote of confidence in the liberalization moves by the country's military leaders, who were taking steps to end their global pariah status by freeing Nobel laureate Aung San Suu Kyi and allowing greater political freedom.
Now President Obama is back in Myanmar, host of this year's Association of Southeast Asian Nations summit. The visit is part of the president's week of summits in Asia and Australia. For a president looking to promote a foreign policy victory, this isn't the best of times to be paying a visit to Yangon, Myanmar's largest city. In the time between Obama's first and second visits, the Myanmar government hasn't maintained the liberalization momentum. The regime is allowing presidential elections next year, for instance, but has made sure Suu Kyi can't run. Because of government discrimination against the Rohingya, a Muslim minority who are not allowed citizenship, tens of thousands of them are now refugees.
The situation is getting worse. Since 2012, reforms have "stalled," Matthew Smith, founder and executive director of human-rights group Fortify Rights, told Bloomberg TV today from Bangkok. With the persecution of the Rohingya getting dramatically worse, Myanmar is home to "some of the worst human rights violations that can be perpetrated," Smith said.
The Obama administration's take: Since the country spent so many years as a global pariah, reform in Myanmar is bound to be difficult. "With the changes that have occurred here in the past few years—the opening up, in essence—we've uncovered some of the deep-seated problems," Derek Mitchell, the American ambassador, told Bloomberg News. "They are grappling with lack of capacity, lack of institutions, old mindsets, and basically a real hole, a gap in their ability to move rapidly into reform."
Myanmar is attracting money from foreign investors eager to get in on a Southeast Asian frontier market. The government expects more than $5 billion in foreign direct investment for the fiscal year ending March 2015, Reuters reported in September. Last month, a consortium led by Singapore construction company Yongnam Holdings won a $1.4 billion order to build a new airport in Yangon. The winning consortium, which also included an affiliate of Singapore's Changi Airport Group and Japan's JGC, will build a new airport with capacity of 12 million passengers a year, up from the current airport's 2.7 million.
Still, given the initial excitement accompanying the junta's moves to open to the West, the investment amounts have been disappointing, according to Erin Murphy, a former CIA analyst who is founder of the Inle Advisory Group, and James Clad, deputy assistant secretary of defense for Asia Pacific Security Affairs during the George W. Bush administration. Such U.S. companies as General Electric, Coca-Cola, and Procter & Gamble have invested more than $600 million since 2012, "a number that is impressive but does not approach anticipated levels," the two wrote in a National Bureau of Asian Research preview of Obama's trip published Nov. 4. "The major 'gold rush' of investment has not reached expected levels; instead, the majority of U.S. corporations have delayed entry into Myanmar due to the overwhelming and complex investment challenges."
Meanwhile, the Myanmar government has reason to worry that it will be feeling more heat from lawmakers in Washington, where the regime's many critics in Congress have been applying pressure on the Obama administration to take a harder line with Myanmar. Indeed, in a city where Republicans and Democrats can rarely agree on anything, getting tough with Myanmar is one issue that can unite all sides. In September the House Foreign Affairs Subcommittee on Asia and the Pacific unanimously consented to forward to the full committee the Burma Human Rights and Democracy Act of 2014, sponsored by Ohio Republican Steve Chabot.
Before it's here, it's on the Bloomberg Terminal.
LEARN MORE