Vietnam Premier Calls for South China Sea Restraint
John Boudreau and Phil Mattingly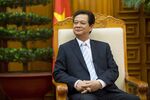 Vietnam's premier called on countries not to alter rocks and shoals in the South China Sea and warned that improperly-handled disputes with China risk damaging bilateral relations between the two nations.
Countries should refrain from "actions that would complicate the situation and change the status quo of rocks and shoals," in the South China Sea, Prime Minister Nguyen Tan Dung said yesterday in written responses to questions from Bloomberg News.
Dung's comments follow months of renewed territorial tensions between Vietnam and China and were sent after he met with U.S. President Barack Obama at a summit of Southeast Asian leaders in Myanmar yesterday. The government in Hanoi is pursuing negotiations to defuse the disputes in the South China Sea while publicly protesting Chinese actions and seeking closer economic and military ties to the U.S. and other powers, including India and Japan.
"Against the background of the re-normalization of relations of the two countries, these fairly tough comments reflect a very difficult situation," Alexander Vuving, a security analyst at the Asia-Pacific Center for Security Studies in Hawaii, said by phone. "There is no substantial progress in the Sino-Vietnam relationship. Despite all of these meetings and resumption of exchanges, the relationship between the two countries is still very low. The hostilities are still there, buried below the surface."
Legal Challenge
Vietnam will "apply every peaceful and necessary measure" under international law to protect the country's legal rights in the disputed sea region, Dung said. Vietnam has prepared evidence for a legal suit challenging China's claims to disputed waters, the premier said in May.
The Association of South East Nations and the international community need to call on "parties concerned" to comply with international law, Dung said. China's announcement in October that it had completed an airstrip on Woody Island, part of the contested Paracel island group, was condemned by Vietnam's foreign ministry. Earlier this month, Vietnam protested China's "illegal" renovation activities on Stone Cross Island in the Spratlys.
Taiwan is another territorial claimant that has drawn Vietnam's ire. Last week, Taiwan's coast guard conducted live-fire drills on an island in the disputed Spratly chain. Vietnam's foreign ministry said the drills violated its sovereignty and threatened maritime security.
Artificial Islands
Vietnam has installed small pillar structures on underwater shoals on its continental shelf between Vietnamese oil rigs and the Spratly Islands and manned them with garrisons, Vuving said. Vietnam has also inhabited smalls islands in the Spratlys, whereas China is building artificial islands out of submerged reefs, he said. China's efforts in the South China Sea dwarf that of any other country, Vuving added.
Obama's meeting with Dung comes after diplomatic relations between Vietnam and China deteriorated when a Chinese oil rig was placed off Vietnam's coast in May, triggering clashes between boats and also anti-Chinese riots in Vietnam.
"Obviously, the United States and Vietnam have a very complex and difficult history, but for the last several years what we've seen is deeper and deeper engagement and opportunities to cooperate," Obama said yesterday.
'Rules-Based Norms'
In October, U.S. Secretary of State John Kerry told Vietnam's Deputy Prime Minister Pham Binh Minh that Vietnam will be able to buy non-lethal weapons from the U.S.
"We very much share the belief that it is important for all countries, big and small, in the region to abide by rules-based norms in resolving disputes," Obama said.
The U.S. and Vietnam continue to have "productive dialogues on issues like security," Dung said. Relations between the two countries "have achieved significant progress," he said.
Vietnam is seeking "assurance that the U.S. stays the course in its re-balance" to Asia, Carlyle Thayer, an emeritus professor at the Australian Defence Force Academy in Canberra, said by phone.
Obama, who also met with Vietnamese President Truong Tan Sang in Beijing earlier in the week at the Asia-Pacific Economic Cooperation summit, is signaling the intentions of the U.S. to continue to edge closer to Vietnam, Vuving said.
"Both the U.S. and Vietnam share a strategic interest to prevent Chinese domination of the region," he said.
It is easier for China to "manipulate" Vietnam's leadership if no other powers or international bodies get involved with South China Sea disputes, Tuong Vu, an associate professor of political science at the University of Oregon, said by phone.
Slowing Down
"China wants to slow down the relationship between the U.S. and Vietnam," he said.
Chinese State Councilor Yang Jiechi met with Vietnamese officials in Hanoi Oct. 27 to try to patch up relations. Yang's visit to Hanoi coincided with Dung's trip to India, when the prime minister called on the country to play an active role in territorial disputes in the South China Sea.
Maritime disagreements "should be resolved through dialogue and consultation by countries directly involved on the basis of respect and historical facts and international laws," Chinese Foreign Ministry spokesman Hong Lei said at a briefing in Beijing Oct. 28. "This is in line with international laws and common practices, and is also a consensus reached by China and Asean countries."
Navigating its relations with China while protecting its economic and sovereign interests is risky diplomacy for Vietnam, Vuving said.
Trade between Vietnam and China surged 84 percent to $50.2 billion last year from $27.3 billion in 2010, according to Vietnam government data. The two countries aim to boost that flow to $60 billion in 2015, according to an April 14 statement from Vietnam's government.
The "reset" between Vietnam and China, which includes crisis hotlines and increased high-level meetings, may be brief, Thayer said.
"All it takes is a misstep or perceived misstep by any of the parties" to inflame territorial tensions, he said. "The fundamental sovereignty disputes have not been solved."
Before it's here, it's on the Bloomberg Terminal.
LEARN MORE