Obama Readies Plan to Stop Deportation for 5 Million Immigrants
Mike Dorning and Heidi Przybyla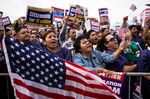 President Barack Obama is in the final stages of crafting a plan to reshape immigration policies to lift the threat of deportation for as many as 5 million undocumented immigrants, mostly parents of U.S. citizens or children brought to the country as minors.
Obama also may use his executive authority to expand an order he issued in 2012 that staved off deportation for qualified undocumented immigrants who came to the U.S. as minors, said people familiar with administration planning who spoke on condition of anonymity to discuss internal deliberations.
The actions that Obama's planning, coming after Congress failed to advance its own legislative proposals, "may well be a forcing action" for the Republican-led House to pass legislation in 2015, House Democratic Whip Steny Hoyer of Maryland said on MSNBC's "Morning Joe" program.
The prospect of an executive action by the president on immigration set off a confrontation with Republican lawmakers, who won control of the Senate in last week's U.S. elections. House Speaker John Boehner said Republicans would fight Obama "tooth and nail" over any order revamping immigration policy without legislation from Congress.
The president, who has said he'll act before year's end, hasn't made a final decision on the immigration actions, said a White House official who asked for anonymity to discuss private deliberations. More recommendations are still forthcoming from the Department of Homeland Security, the official said.
Furious Reaction
Reports that Obama was getting such a plan ready for after his return from an Asia trip next week stirred a furious response from congressional Republicans. Fox News and the New York Times both reported that an announcement could come as soon as next week, something the White House has declined to confirm.
Republican congressional leaders including Senator Mitch McConnell of Kentucky and Boehner warned Obama at a White House meeting last week that he would poison relations unless he reversed his plans.
"I had maybe naively hoped" Obama would be ready to work with the GOP after the midterm elections, McConnell, who takes over as Senate majority leader in January, told reporters today.
Boehner declined to say how members of his party would react. "All options are on the table," the Ohio Republican told reporters today in Washington. "Our goal here is to stop the president here from violating his own oath of office and violating the Constitution."
'Seriously Upset'
Jeff Sessions, an Alabama Republican in line to become chairman of the Senate Budget Committee is urging his party to use the threat of a cut-off of government funding to block action. Fellow Republicans are "baffled" by Obama's actions, he said.
"The things they're seriously upset with the president about, it seems they're just doubling down on," Sessions said.
A potential provision permitting undocumented immigrant parents of citizens and legal permanent residents to stay in the U.S. and receive work authorization would affect 3.3 million people who have been in the U.S. illegally at least 5 years, according an estimate by the Migration Policy Institute, a research group in Washington.
An expansion of eligibility for the deferred action program Obama already established for undocumented immigrants who arrived as children could provide a reprieve from deportation for more than 1 million additional people.
Final details in the eligibility criteria the White House sets could expand or shrink the number of people covered by millions.
Immigrant Groups
Some pro-immigrant groups welcomed the action while saying it doesn't go far enough.
"It seems there are a lot of families that will be left out of this, and this doesn't take into account the people deported that Obama recently said should not have been," said Erika Andiola, Co-Director of Dream Action Coalition. Obama "has broad authority, and could go big and offer deportation relief and working papers to many more than just a few million."
An estimated 11.7 million undocumented immigrants are in the U.S., according to the Migration Policy Institute.
Republicans are split, with some who say the party must take steps to temper its stance against undocumented immigrants in order to avoid alienating the nation's growing Hispanic population. Others consider undocumented immigrants to be lawbreakers who don't deserve what many label amnesty.
'Debate Raging'
"There is a debate raging on," said Representative Matt Salmon of Arizona, who has been pressing fellow Republicans to ensure that legislation to fund the government denies money for actions in a potential immigration executive order.
Salmon has gathered about 60 House Republicans' signatures for a proposal barring federal funds for work permits and residency cards under a presidential executive order.
"The Congress has the power of the purse and should use it as a tool to prevent the president from implementing policies that are contrary to our laws and the desire of the American people," Salmon wrote in a letter today to House Appropriations Committee leaders.