Network Admins Wanted: New Ideas for Filling 'Middle-Skill' Jobs
By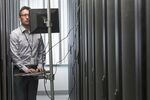 Want to be wanted? Learn to be a computer network or systems administrator.
A new survey finds that 27 percent of companies across all industries name the network/systems administrator job as the hardest to fill. The shame is that plenty of people would love to land the jobs, which pay an average of $35 an hour, but there's a mismatch in the labor market between the skills they have and the skills employers need. Fixing mismatches in the labor market is the goal if the new report by Accenture, Burning Glass, and Harvard Business School. It's called "Bridge the Gap: Rebuilding America's Middle Skills."
"Most debate on closing the skills gap in the United States focuses either on issues around high skills (e.g., how can we increase the number of aeronautical engineers in America?) or low skills (e.g., what should be the minimum wage?)," the report says. "Now, increasingly, businesses are starting to feel the pinch of middle-skills gaps."
This chart shows that the middle-skill jobs that are the hardest to fill are for the most part the ones that provide the highest career value. Health-care practice and technical occupations are the hardest to fill and among the most rewarding.

Using jobs data from Burning Glass, a Boston company that uses artificial intelligence for recruiting and staffing, the study lists precisely what skills people need to acquire to become network administrators. For instance, a $21-an-hour computer support specialist needs to learn about network administration, the domain name system, firewalls, PERL, and Solaris, along with system administration, Windows Server, and Microsoft SharePoint. That's a lot to learn, but it's doable.
I interviewed Joe Fuller, a senior lecturer of business administration, who led the Harvard Business School team in the joint project. He said the authors tried to avoid politicized arguments over the causes of the middle-skills mismatch and focus on solutions that all constituencies—employers, workers, and government—could coalesce around. "Nobody wants to erode the competitiveness of the country," Fuller said. "There's no data to suggest it's getting better. There is data to suggest it's getting worse."
Employers need to work more closely with schools, especially community colleges, communicating their precise needs and providing resources, Fuller said. Governments, rather than directly teaching skills, should focus on improving the flow of information.
"I'm quite optimistic, and the reason I am is going to sound perverse," Fuller said. The reason, he said, is that things are so bad they've become intolerable. "There's a real understanding that what's happening in the labor market is not good for the country. We've got to try something new."