Nancy Pelosi Walks into the #Grubergate Buzzsaw
The Democrats are increasingly struggling to distance themselves from Jonathan Gruber.
By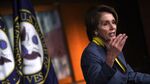 The first question at House Minority Leader Nancy Pelosi's post-election news conference went to Fox News's Chad Pergram, who asked what the un-archived comments of "Obamacare architect Jonathan Gruber" meant for the coming Obamacare wars.
"Mr. Gruber's comments were a year old, and he has backtracked from most of them," she said. "You didn't have it in your narrative. That's really important. He is not even advocating the position that he was at some conference and some said. So I don't know who he is. He didn't help write our bill. With all due respect to your question, you have a person who wasn't writing our bill, commenting on what was happening when we were writing our bill, who has withdrawn some of the statements."
Pelosi might as well have waved a red flag in front of a target as a starting gun went off. Gruber "wasn't writing" the health care bill? No one said he was, only that he helped walk Democrats through the crafting of the various bills that became the Affordable Care Act. It only made sense; Gruber, an MIT professor, had played a similar role in Massachusetts four years earlier. As speaker of the House, Pelosi herself had promoted Gruber's analyses of the ACA, much as Democrats promoted the work of economist Mark Zandi to prove that their policies had conservative credibility.
So the right sprang into action—at Mediaite, on Twitter, and on Twitchy, which aggregated both Pelosi's comments and the spin of reporters who said there was a difference between Gruber being cited by Democrats and Gruber "writing the bill." In very little time, conservatives re-discovered video of Pelosi telling reporters to get right with Gruber's analysis of the ACA.
It was possible, technically, for Democrats to credit Gruber with some of the best ideas inside and outside of Congress during the 2009-2010 debate without saying that Gruber "wrote" the law. But Democrats are explaining, and losing.
MORE ON BLOOMBERG POLITICS