May Be Time for Fed to Retire 'Considerable Time' Phrase
Craig Torres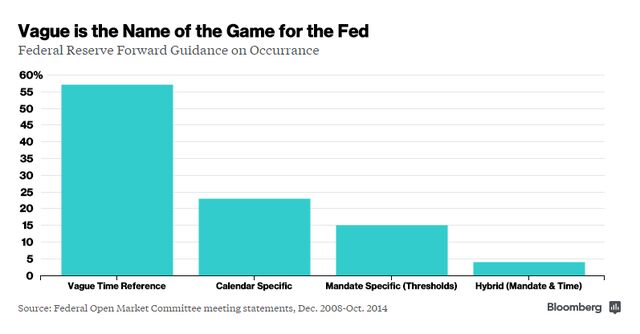 The sooner the Federal Reserve retires its pledge to keep short-term interest rates around zero for "a considerable time," the better for Adrian Averre.
The head of G-10 nation rates trading at BNP Paribas has lived with the central bank's heavy hand since 2008: The Fed has used such forward guidance, along with asset purchases, to exert powerful downward influence over short- and long-term yields. Now, as the economy gets closer to full employment, it might be time for the Fed to let the rate signal go.
"You either let free markets determine the rate or you have an interventionist policy, and the lack of volatility is one of the casualties," said Averre, interviewed on the BNP Paribas trading floor the day the Labor Department released October jobs data. "When will central banks actually be able to pull out?"
The answer may be December. Fed Chair Janet Yellen has successfully negotiated two steps of a delicate transition back to normal monetary policy. The Fed published a revised exit strategy in September, and ended its third asset-purchase program last month. Now, she faces one of the biggest challenges of her chairmanship so far: orchestrating the first rate increase since 2006, with a pullback in forward guidance marking the first phase.
Fed officials meet Dec. 16 and 17, and economists say this would be an appropriate moment to retire the "considerable time" phrase the Fed has used since March to describe its commitment to keeping the federal funds rate between zero and
0.25 percent even as it slowly reduced its bond purchases.
Clock Ticking
"If we are all watching the same data, then no one should be surprised when the Fed moves to tighten," said Laura Rosner, BNP Paribas U.S. economist. "The end of quantitative easing was an important marker of progress. It seems to have set the clock ticking on 'considerable time.'"
The language has never been popular with everyone on the policy-setting Federal Open Market Committee. Philadelphia Fed President Charles Plosser dissented in July and September. Dallas Fed President Richard Fisher dissented at the September meeting, where "concern was raised" about the phrasing, according to the minutes.
"My preference would be to get rid of the 'considerable time' part of the forward guidance," said Cleveland Fed President Loretta Mester, another FOMC voting member and participant in a new Fed subcommittee on communications. Mester spoke last week in a meeting with traders, economists and reporters in New York.
Majority View
While it isn't clear yet whether Mester, Plosser and Fisher reflect the committee's majority view, the Fed already undermined the phrase to some extent. It added new language last month, saying rates would increase sooner, or later, depending on progress toward the FOMC's goals of full employment and 2 percent inflation.
While that language made future action contingent on economic data, it didn't add clarity about timing. That's appropriate, said Antulio Bomfim, senior managing director at Macroeconomic Advisers LLC in Washington.
"As the committee feels it is getting closer and closer to the first rate hike, the case for vague becomes stronger," said Bomfim, a former Fed economist. "At that point you really value your flexibility because you don't know if you are one meeting away or two meetings away."
Macroeconomic Advisers forecasts the first increase in June, with some possibility it might happen in September. Bomfim says there are "reasonable odds" the Fed will eliminate "considerable time" from its statement in December.
Collective 'Ooooooh'
Unemployment fell to 5.8 percent in October, the Labor Department said Nov. 7, just three tenths of a percentage point above the top end of the 5.2 percent to 5.5 percent range Fed officials estimate for full use of labor resources. Traders on the BNP Paribas floor let out a collective "Ooooooh" when they saw the percentage dip toward the Fed's goal.
Still, volatility in the Treasury market remained low as the Fed continues to signal that increases are a distant event.
Bank of America Merrill Lynch's MOVE Index, which measures price swings in Treasuries based on options, fell to 66.6 basis points that day, the lowest since Oct. 9, from 69.2 the previous day. The 2014 average is 61.2 basis points, compared with 85 in 2007 before the financial crisis began to intensify.
Prominent Strategy
Forward guidance on policy rates became popular as central banks discovered that signaling a future path could push down yields on short-term maturities. The strategy gained prominence as the Bank of Canada, Bank of England and European Central Bank also cut their benchmarks to zero or close to zero, limiting the amount of additional stimulus monetary authorities could provide.
The strategy isn't without risks. Overuse can pave the way for financial instability later as investors borrow more against a highly predictable interest-rate path.
That's what happened when the Fed telegraphed in 2004 it would raise interest rates at a "measured" pace. Household savings rates dropped, borrowing against home equity soared and mortgage credit quality plunged as the Fed extinguished the possibility of aggressive interest-rate moves, helping to pave the way for the 2008 financial crisis.
Indeed, former Fed Chairman Paul Volcker warned today against central-bank guidance that attempts to be too exact because it can lead to a buildup of leverage.
Borrow Money
"If you make it too precise in terms of interest rates, then the market obviously begins working against you," he said at a Philadelphia Fed monetary-policy conference sponsored by George Washington University and Princeton University's Griswold Center for Economic Policy Studies. Investors say "Ok, they promised us that the federal funds rate will be zero for 18 months, so I might as well go and borrow some money."
On the other hand, dropping the guidance suddenly could lead investors to price in the next increase sooner than Fed officials themselves expect it to occur. Premature tightening in markets could be risky if the economy slowed, with the Fed's preferred inflation gauge rising just 1.4 percent in September, the 29th month below the central bank's 2 percent target.
That may be one reason why Yellen kept the language in the October statement, even while she undercut it with new wording that suggested policy is data dependent. Any signs of slowing in the expansion could lead the FOMC to leave the "considerable time" language in place until March.
'Not Tomorrow'
An interim step would be to replace "considerable time" with a phrase that indicates "not tomorrow but less than a considerable time," said Michael Gapen, senior U.S. economist at Barclays Plc in New York. Fed Presidents William Dudley of New York, Charles Evans of Chicago and Eric Rosengren of Boston all have used the word "patient" in recent weeks. That word would fit with the FOMC's revealed preference.
Since the committee cut its benchmark lending rate to zero in December 2008, it has resorted to vague time references in 57 percent of its statements, with phrases such as "for some time" and "extended period," according to data compiled by Bloomberg. It used mandate-specific forward guidance, linked to the unemployment and inflation rates, in 15 percent and calendar-specific references in 23 percent.
On two occasions, the committee deployed hybrid guidance, saying a federal funds rate around zero would be appropriate "well past the time" the unemployment rate declines below 6 1/2 percent, especially if inflation forecasts remain below the 2 percent target.
Traders still say the Fed would be better off letting economic data point the way.
"A central-bank policy that completely overshadows the fundamentals is frustrating," said Paul Murphy, head of U.S. Treasury and agency debt trading at BNP Paribas. "I assume the Fed longs for the day, too, when they don't communicate in advance what they are going to do six to nine months from now."
Before it's here, it's on the Bloomberg Terminal.
LEARN MORE