Jim Webb and the Lost History of the Pre-Obama Left
The "centrist" critic of Hillary Clinton is not centrist at all.
By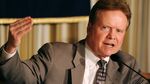 In post-election stories about Hillary Clinton's 2016 campaign—and its discontents—one-term Virginia Senator Jim Webb is sometimes described as a challenger from Clinton's right. The latest example comes from Maggie Haberman and Hadas Gold's sharp story about the left-wing media's approach to Clinton: "Even Webb, who was Ronald Reagan's Navy secretary and claims to have told President Barack Obama that health care reform would be a 'disaster,' has gotten some love on the left."