Irish Used to Deluges Revolt at Planned Water Charges
Dara Doyle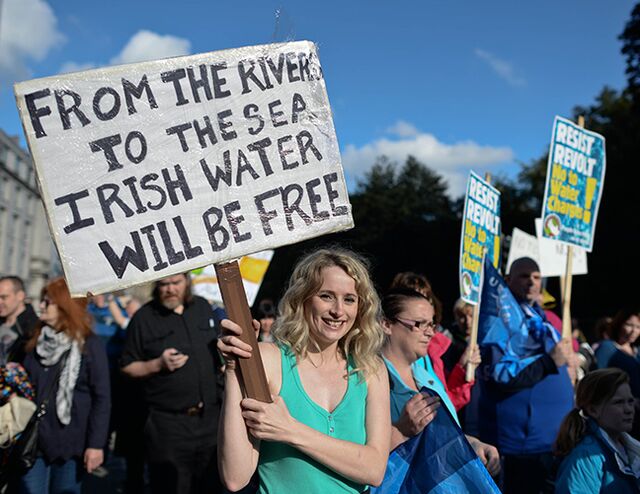 It's a damp, dank morning in Dublin, and Damien O'Neill has just been arrested for the sixth time.
Police detained the 45-year-old Dubliner yesterday as protesters sought to disrupt the installation of water meters in Donaghmede, in the north-east suburbs of the city. In a country where it rains two out of every three days, the introduction of charges for water use is igniting revolt among voters tired of austerity and Prime Minister Enda Kenny.
"There's no money in the pot," said O'Neill, wearing a black hat and water-proofs as the rain pounded down on protesters and police. "You can't pay what you don't have."
The unrest is a microcosm of Irish resistance to water charges, with two demonstrations each drawing more than 100,000 people and another planned for next month. The nation's parliament was suspended today after a dispute between lawmakers over the levies.
In the most serious incident yet, campaigners last week chanting "'scumbags'' and ''cowards''' scuffled with police after officers removed demonstrators blocking Kenny's car as he left a meeting in north Dublin, the epicenter of the disturbances. In Donaghmede, protesters carried placards telling him he couldn't tax a ''God-given gift," with the national weather service warning of flooding today.
Struggling to regain control, the prime minister this week promised measures aimed at restoring calm before the first bills are due to start arriving in January.
Bailout Terms
The charge "could potentially bring the government down," said Michael Breen, politics lecturer at Dublin City University. "Backbenchers are in fear for their political existence."
After seven years of austerity budgets requiring nationwide belt-tightening, paying for water is proving a touchstone for anger among Ireland's population of 4.8 million.
Ireland is the only nation in the Organization for Economic Cooperation and Development that doesn't charge directly for water. Before Kenny took power three years ago, the Fianna Fail-led government agreed to bring in water charges as part of the country's 2010 international bailout.
Homes now face an average annual water bill of 238 euros ($296), according to the Commission for Energy Regulation.
Coming after years of rising taxes and charges, the introduction of billing for a basic element in such local abundance triggered unrest in Dublin and Cork. Arrests were made in Limerick in southwest Ireland as contractors ran up against protesters trying to thwart the installation of meters.
Pink Vests
As the protests spread, Irish Water last week won a court order that stops demonstrators, including O'Neill, coming within 20 meters (65 feet) of installers. Residents still patrol the streets, using Facebook Inc. accounts and mobile phones to call support when water crews are spotted in the area.
In Donaghmede this week, O'Neill, who said he works "in security," joined about 30 others, some dressed in high-visibility pink vests, to protest the water crews. Police were called in and took him away after he tried to disrupt a meter being installed.
Freed after being escorted to a police station, he returned to find the installation crews gone, with local residents milling around in case they returned and two police cars and a van watching over the scene.
"Irish people have brought the country out of a recession, we have just given, given, given," said Lisa King, who is bracing for a bill for three adults and one child living in her home. "I just can't give anymore. This is the last straw."
Plunging Support
Against the background of escalating protests, support for Kenny's government is plunging.
Backing for the coalition of Fine Gael and the Labour Party has dropped to 29 percent from 55 percent in the 2011 election, a poll published on Nov. 1 showed. Sinn Fein, which opposes the water charges, is now the most popular party.
Finance Minister Michael Noonan said last month that he will introduce a tax break to lower water bills. That hasn't been enough to overcome the resistance, even as the government argues that the nation's water infrastructure needs investment. Dubliners suffered water restrictions last year after a filtration problem at Ireland's largest treatment plant.
"Dublin is on a knife-edge," Kenny said in parliament this week, promising measures that will "put people at ease"
Officials overseeing Ireland's bailout arrive in Dublin next week for the second post-program review and will raise the water "debacle" with the government, the Irish Times reported today, without saying where it got the information.
Back in Donaghmede, few are convinced that the prime minister, or Taoiseach in Irish, will be able to easily end the political crisis. King, the resident, said that while she paid all the charges and levies introduced after the recession, "as much as I hated them," paying for water is a step too far.
"Look at this," said King, holding out her palm to catch raindrops. "It falls from the sky permanently."
Before it's here, it's on the Bloomberg Terminal.
LEARN MORE