Brazil Aims to Put Eike Batista Behind Bars
The former billionaire's trial on insider-trading charges is a rarity
By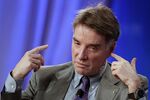 Less than three years after President Dilma Rousseff dubbed Eike Batista "the pride of Brazil," prosecutors are trying to send the former billionaire to prison for alleged insider trading in a trial set for later this month. If they succeed, Batista will be the first person in the nation to serve time for that crime in the 13 years since such activity was outlawed.
"Insider trading is clearly widespread in Brazil," says David Riedel, president of Riedel Equity Research in Greenbrae, Calif. "There is a consistent pattern of leaking. But the problem is not the laws—it's that they aren't enforced." Of the 11 biggest mergers and acquisitions in Brazil in the past two years, at least seven of them were reported by newspapers and news agencies before the official announcement was made, according to data compiled by Bloomberg News. The stock of real estate developer Brookfield Incorporações skyrocketed 21 percent on Jan. 23 on rumors its parent company would take the unit private. That deal was announced four days later.

Other kinds of information have leaked as well. The benchmark Ibovespa stock index surged on Sept. 16 as speculation spread that an upcoming poll would show market-friendly presidential candidate Aécio Neves gaining voter support. The poll, released two hours after the market closed, confirmed just that. (Neves lost a runoff election to Rousseff on Oct. 26.)
The self-regulatory arm of BM&FBovespa, Brazil's securities and derivatives exchange, said last year it detected 91,000 transactions that showed irregular volumes or stock-price moves. The CVM, Brazil's equivalent of the U.S. Securities and Exchange Commission, ruled on just 10 cases in 2013 and three cases this year, and the fines it's imposed have been small. Of the 57 cases of insider trading from 2006 to 2013 ruled on by the CVM, all but seven involved fines of less than $160,000.
According to Maria Helena Santana, a former president of the CVM, only a fraction of suspicious trades are ever investigated and punished because the organization lacks the employees and technology to pursue the cases. The CVM said in an e-mail that budget constraints don't affect the work it does. The regulator also said it's "doing everything that its legal mandate requires."
Eduardo Salomão Neto, a partner at law firm Levy & Salomão Advogados in São Paulo, says Brazil's legal system hinders enforcement of all criminal laws, not just white-collar crime. Even so, he says, the CVM could do better: "The regulators could do partnerships with the police and prosecutors to conduct more sophisticated investigations that would uncover the big crimes and criminals. The crimes that are detected and punished now are very small."
That's what makes Batista's case so unusual. Prosecutors in Rio de Janeiro have filed insider-trading charges against Batista, who lost most of his $34.5 billion fortune when his energy and commodities empire collapsed, for illegally dumping shares of his oil company using privileged information. Shares in the company, at the time known as OGX, tumbled 95 percent in 2013 before it filed for bankruptcy protection on Oct. 30. Prosecutors in São Paulo filed charges on Nov. 5 against three former OGX executives. A spokesman for OGX says the company couldn't comment and didn't have contact details for the executives. Batista's lawyer, Sérgio Bermudes, didn't respond to requests for comment. He has said previously that the allegations against Batista are groundless. The case is scheduled to start in a Rio court on Nov. 18.
"Punishing a very high-profile person, like the U.S. did with Martha Stewart, sends a message," says equity researcher Riedel, referring to the Martha Stewart Living Omnimedia founder who was jailed for lying about a stock sale. She was released in March 2005 after serving almost five months and returned to the company in 2012. "Batista may become the example of what not to do."
BOTTOM LINE -
The bottom line: While there were 91,000 instances of suspicious trading in 2013, Brazil's market cop ruled on just 10 cases.
Before it's here, it's on the Bloomberg Terminal.
LEARN MORE