Ballmer Gives Harvard Donation to Expand Computer Science
John Lauerman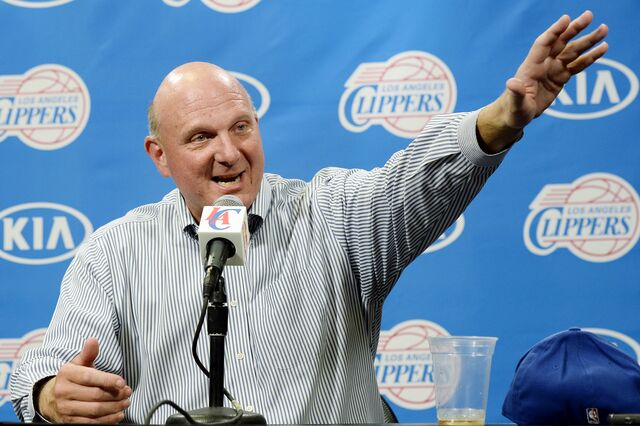 Harvard University will increase its faculty in computer science, the school's fastest-growing major, by 50 percent with funds from Steve Ballmer, Microsoft Corp.'s biggest shareholder and former chief executive officer.
The gift will support 12 new teachers, increasing the size of the computer science faculty to 36, said David Parkes, area dean for computer science at Cambridge, Massachusetts-based Harvard. The school didn't provide the value of Ballmer's donation.
Demand for technology and programming courses has risen sharply at Harvard as smartphones, tablets, laptop computers and other devices have become integrated into all facets of life. Ballmer, who graduated from the college in 1977, said he began discussions with Harvard President Drew Faust the day he retired from Microsoft that led to the gift.
"It's clear to me that Harvard really could build a computer science department for the future," he said in a telephone interview. "This is a once-in-a-lifetime chance to seize the day."
Ballmer made a return visit to Harvard and toured Allston, the Boston neighborhood across the river from the main campus in Cambridge, where the school is building facilities for computer science. New classrooms in Allston will allow more space for faculty to interact with students as they work on projects, Parkes said.
"This building will change how we teach," he said.
Previous Donation
Ballmer has donated to Harvard in the past. He and Microsoft co-founder and former CEO Bill Gates gave $25 million in 1996 for engineering programs and construction of the Maxwell Dworkin Laboratory that now houses the computer science faculty. The building bears the maiden names of the executives' mothers.
The University of Oregon said yesterday that Ballmer and his wife Connie, a 1984 graduate, are giving $50 million to the Eugene-based college. The gift will pay for scholarships, a health promotion program and a campaign to raise awareness of the university, according to a statement.
At Harvard, Ballmer roomed down the hall from Gates, who dropped out before graduating to found Microsoft. Gates later persuaded his former classmate to leave Stanford Graduate School of Business and join the company.
Basketball Team
Ballmer, 58, succeeded Gates as Microsoft CEO in 2000. He bought the Los Angeles Clippers professional basketball team in August for $2 billion, and teaches business classes at Stanford. He is the 33rd-richest person in the world with a net worth of $22 billion, according to the Bloomberg Billionaires Index.
Harvard is in the second year of a campaign to raise $6.5 billion, a record goal in higher education. The university said in September that it had collected commitments of more than $4.3 billion.
Harvard has the biggest endowment in higher education, valued at $36.4 billion. Computer science is located in the School of Engineering and Applied Sciences, whose portion of the fund is about $879 million.
Computer science is Harvard's fifth-largest concentration, or major, and its introductory class, called CS50, is the biggest at the school with about 700 students per semester, Parkes said.
Gaining Popularity
The popularity of CS50 is such that faculty at Harvard's biggest Ivy League rival, Yale University, voted earlier this month to bring the course to the New Haven, Connecticut, campus at the beginning of the next school year, the Harvard Crimson reported Nov. 9. Harvard faculty members are still considering an agreement, Parkes said.
Harvard's engineering school was founded in 1847 and became a separate, degree-granting unit in 2007. Over the past seven years, undergraduate enrollment at the school has tripled, Parkes said.
More students are studying computer science for its own sake and to attack challenges in other subject areas, said Harry Lewis, a professor in the field and former dean of Harvard College.
The popularity of computer science "is causing us problems that we've worked hard to create for ourselves," Lewis said in a phone interview. "We have constraints on our teaching spaces, particularly as we're trying to move to less lecturing and more active learning."
Student Endeavors
Computer training helps Harvard students in all types of endeavors, Lewis said. A former archaeology student designed a program to examine aerial radar images for signs of ancient cisterns beneath the soil of a dig site, he said.
As a Harvard undergraduate, Johnny Bowman took a computer science course that ended with designing and building a computer application for the Web. He continues to use that experience as chief financial officer of Edenworks Inc., a startup company that designs produce and fish farms for the roofs of urban buildings. The company has hired programmers to develop systems that optimize growing conditions, Bowman said.
"When you first start to build a computer system, you're making some long-term decisions that impact every person who joins your team on the tech side," said Bowman, who graduated from the college in 2011 and is in his second year at Harvard Business School. "Knowing the importance of those decisions and what kind of systems we need has saved us from making some of the biggest mistakes we could have made."
Before it's here, it's on the Bloomberg Terminal.
LEARN MORE