Another Woman May be Running for President in 2016
Carly Fiorina is trying to help Republicans expand their appeal to female voters, who could also help her if she jumps into the party's primary.
By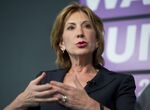 Kim Reem was surprised earlier this fall when her phone rang and Carly Fiorina was on the line. The former Hewlett-Packard chief executive was set to speak in a Des Moines suburb and she told Reem that she wanted to chat about Iowa, the state that will hold the first presidential nomination balloting in early 2016.
"She didn't have an agenda and it was very unscripted," said Reem, the president of the Iowa Federation of Republican Women. "She is definitely trying to build relationships." Those relationships would be essential if Fiorina, 60, runs for president, something she has said she's considering.
While it's commonly assumed Hillary Clinton will indeed make a second White House run, a Fiorina candidacy would give Republicans their own woman candidate, potentially helping the party boost its brand by looking more inclusive and also alter the still-forming, all-male Republican field. The Republican Party has worked harder to recruit female candidates and showcase women ever since the beating it took in the 2012 presidential election. In that campaign, President Barack Obama took 55 percent of the female vote compared with 44 percent for Republican Mitt Romney.
An unsuccessful 2010 U.S. Senate candidate in California, Fiorina leads the Unlocking Potential Project, a political action committee formed earlier this year that aims to engage women and close the gender gap the Republican Party has faced in recent national elections. The group is one of several women-centric initiatives launched by Republicans in recent years in response to Democratic messages about a GOP "war on women."

Through Oct. 15, Unlocking Potential had raised $1.7 million and spent about $1 million, mostly on travel, payroll and consulting, Federal Election Commission records show.
Fiorina, who declined an interview request, traveled extensively during the recent campaign season, stumping for Republicans and banking favors for a potential 2016 bid. Besides Iowa, her stops included other key presidential campaign states such as New Hampshire, South Carolina, North Carolina and Michigan. During the final week before the election, she was in Iowa for her second time in a month, spending two days boosting Republican U.S. House candidates. One of those candidates, Rod Blum, won, while the other, Mariannette Miller-Meeks, lost.
Mary Kramer, a longtime Republican activist and former Iowa Senate president, said she was impressed by Fiorina when she saw her speak recently at a hotel in West Des Moines, an event that included a slickly produced video showcasing Fiorina's speeches, TV appearances and conservative views. "What was impressive for me was her ability to articulate a positive conservative vision," said Kramer, a former U.S. ambassador to Barbados who backed Romney in the 2012 Iowa caucuses. "Whatever she chooses to do, she is going to be really effective. I encouraged her to get active in national politics."
Reem said she got the sense that Fiorina is getting ready to run for president, after seeing her speak in Iowa. "That was definitely the impression I had," she said. "This is Iowa. We've seen it before." Iowa's Republican Party chairman, Jeff Kaufmann, has also taken notice of Fiorina and is interested in getting her back to the state to help the party in some way.
The ousted H-P CEO hasn't always been successful with her political goals. During the 2008 presidential campaign, she angered John McCain's campaign when she said neither the senator nor his running mate, then Alaska Governor Sarah Palin, was capable of running a major corporation such as Hewlett-Packard. When she was running for Senate in 2010, she was caught on a live microphone making a disparaging remark about Democratic Senator Barbara Boxer's hair.
Fiorina's professional career also was not without drama. She was fired as CEO of H-P in 2005, after the company's shares dropped 50 percent over five years and she failed to produce the profits she promised when the company bought Compaq Computer Corp. Recruited from Lucent in 1999, she was the first outsider and woman to run the company.