Another Woman May be Running for President in 2016
Carly Fiorina is trying to help Republicans expand their appeal to female voters, who could also help her if she jumps into the party's primary.
By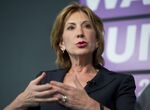 Kim Reem was surprised earlier this fall when her phone rang and Carly Fiorina was on the line. The former Hewlett-Packard chief executive was set to speak in a Des Moines suburb and she told Reem that she wanted to chat about Iowa, the state that will hold the first presidential nomination balloting in early 2016.