Elizabeth Warren Joins Senate Democratic Leadership
Kathleen Hunter and Kathleen Miller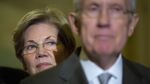 U.S. Senate Democrats elevated first-term Massachusetts Senator Elizabeth Warren to an expanded leadership team as they prepare to become the chamber's minority party in January.
Warren, who will act as a bridge to the party's liberal wing, said she'll use her role to focus on financial equality in the U.S.
"Wall Street is doing very well; CEOs are bringing in more and more, yet families everywhere are struggling," Warren told reporters at the Capitol in Washington.
She will be strategic policy adviser to the Democratic Policy and Communications Committee, led by Senator Charles Schumer of New York. This places Warren, one of the Democratic Party's chief critics of Wall Street, under the leadership of Schumer, one of Wall Street's biggest backers in the Senate.
"Senator Elizabeth Warren, as much if not more than any other senator, drives Wall Street crazy," second-ranking Democrat Richard Durbin of Illinois told reporters. "She's smart and she delivers a message that really resonates with families."
In a statement, Warren said the leadership position "is a seat at the table for all of us."
Senate Democrats, during their private meeting today, returned Harry Reid of Nevada as leader along with his top three lieutenants, Durbin, Schumer and Patty Murray of Washington.
Klobuchar, Tester
Also joining the Democratic leadership team are Senators Amy Klobuchar of Minnesota, to lead steering and outreach, and Jon Tester of Montana, who will be head of the Democratic Senatorial Campaign Committee.
Senators Claire McCaskill of Missouri, Joe Manchin of West Virginia, Heidi Heitkamp of North Dakota, Mary Landrieu of Louisiana and Mark Warner of Virginia opposed Reid in the secret-ballot vote.
"I voted for a change," Manchin told reporters. "I did not vote to accept the leadership team." He said "quite a few" members sought a week's extension on the leadership election, and that a delay was voted down.
There was "a lot of consternation" expressed about the Nov. 4 election loss during the Democratic caucus that lasted almost four hours, McCaskill told reporters. "There were a lot of voices that spoke," she said.
Tangible Changes
Heitkamp said in a statement that Democrats "need to show the American people that we hear them by implementing real, tangible changes to help restore trust."
Warner spokesman Kevin Hall confirmed the senator voted against Reid, as did Landrieu spokesman Matt Lehner.
Tester said that Democrats "take as much blame as Republicans" for Senate dysfunction. "We got to figure out a way to make it functional again to make it work for the American people," he said.
Tester is the second Democrat in a row from a Republican-leaning state to head the campaign committee. He takes over from Michael Bennet of Colorado.
McCaskill and Tester said members urged Democratic leaders to work with Republicans to pass legislation. Reid said after the meeting he has charged Klobuchar with reaching out to Republicans to move bipartisan bills.
Medical-Device Tax
Because medical-device makers are located in her home state of Minnesota, Klobuchar is one of a group of Democrats who side with Republicans in backing repeal of a medical-device tax that helps fund Obamacare.
Reid of Nevada told reporters that 28 senators spoke during the meeting.
"The one thing that came out of the caucus without any second-guessing is that we have to continue fighting for the middle class," Reid said.
The inclusion of Warren in leadership reflects the main point of tension for Democrats as they try to recapture the Senate in 2016. Their activists want to rein in Wall Street's influence and their candidates need Wall Street's money to compete.
"This is obviously an attempt to bring Senator Warren into leadership and align her thoughts more closely with leadership, but I don't think that would be successful because it would be wholly inconsistent with her persona and leadership style to date to fall in line," said Isaac Boltansky, an analyst at Compass Point Research & Trading LLC in Washington and a former staff member for Warren on the Congressional Oversight Panel.
Different Voices
Senator Debbie Stabenow, vice chairman of the communications committee, said before the caucus that Warren and others are being added in an effort to "bring in different voices."
"We are looking for ways to broaden. We have so much talent in the caucus," said Stabenow of Michigan.
Warren, 65, gained national recognition by pushing for stricter regulation of financial service companies. She was a popular campaigner for fellow Democrats before the Nov. 4 election.
The lack of a shakeup at the top of Democratic leadership is notable after the party lost at least eight Senate seats. A Dec. 6 runoff in Louisiana will determine whether Republicans start the next Congress with 53 or 54 of the 100 seats.
It's somewhat unusual for a first-term member to be given a leadership post, although Alaska Senator Mark Begich -- who lost his seat last week after one term -- was part of Democrats' team. He is being replaced by Klobuchar.
Harvard Professor
Warren, a former Harvard University professor, defeated Republican incumbent Scott Brown in 2012.
Before her election to the Senate, Warren was an adviser to President Barack Obama and helped create an agency designed to help protect Americans from shoddy financial products. The Consumer Financial Protection Bureau is a centerpiece of the 2010 Dodd-Frank financial regulatory revamp.
Following opposition from some Republican lawmakers, Warren was passed over for head of the bureau in favor of Richard Cordray. That decision by the Obama administration played a role in her decision to run for the U.S. Senate.
Senate Republican leader Mitch McConnell was unanimously re-elected as Senate Republican leader today in a separate private meeting, his spokesman, Don Stewart, told reporters. McConnell will become majority leader in January.
In the only contested race, Senator Roger Wicker of Mississippi defeated Dean Heller of Nevada to be chairman of the National Republican Senatorial Committee, Wicker said in a press release.
Cornyn, Thune
The rest of the Senate Republican leaders were re-elected, including John Cornyn of Texas as whip, the second-ranking spot; Republican Conference Chairman John Thune of South Dakota; conference Vice Chairman Roy Blunt of Missouri, and Republican Policy Committee Chairman John Barrasso of Wyoming. Maine's Susan Collins described the Republican elections as "smooth sailing."
House Republicans today returned to their leadership posts Speaker John Boehner of Ohio, Majority Leader Kevin McCarthy of California, Majority Whip Steve Scalise of Louisiana and Cathy McMorris Rodgers of Washington as chairwoman of the House Republican Conference, according to a Twitter message posted by the party. The full House membership will vote in January on re-electing Boehner as speaker.