Ukraine Tells Army to Prepare for Battle as Tensions Rise
Volodymyr Verbyany, Daryna Krasnolutska and Krystof Chamonikolas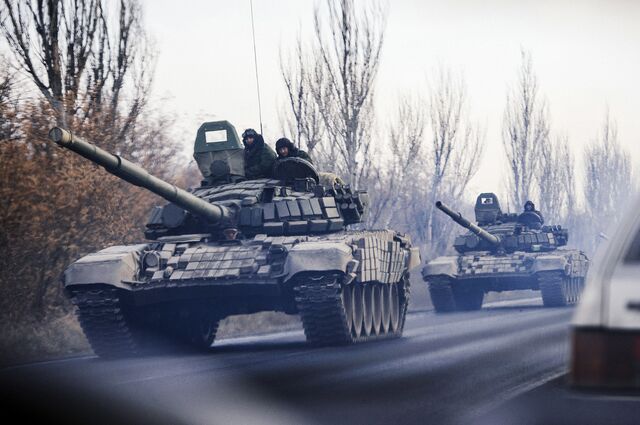 Ukraine's defense minister said the military should prepare for clashes as growing tensions in the nation's eastern combat zone threatened to boil over into open conflict. Bond yields jumped to a record high.
The separatists and their Russian backers are amassing troops in the areas of the Donetsk and Luhansk regions they've seized, Defense Minister Stepan Poltorak told a government meeting today in Kiev. One Ukrainian serviceman died and five were wounded in the past 24 hours, a military spokesman said. There was no independent confirmation of their accounts.
"The separatists and their Russian sponsors are getting ready to move again militarily," said Joerg Forbrig, senior program director at the German Marshall Fund of the U.S. in Berlin. "That's being anticipated by Ukraine, and the Ukrainian side is taking measures."
Pressure has been building for days in eastern Ukraine, with the government and the militants accusing each other of gearing up for a renewed military push that risks swelling the conflict's death toll of more than 4,000. Friction over the region's fate is driving a wedge between Russia and its former Cold War foes. President Vladimir Putin denies stoking the unrest.
Yields Surge
The yield on Ukraine's dollar-denominated note maturing July 2017 jumped 171 basis points to 17.79 percent by 3:19 p.m. in Kiev. The hryvnia gained 0.7 percent to 15.74 per dollar after earlier weakening to a record 15.99, according to data compiled by Bloomberg. It's slumped 14 percent in the past five sessions.
Bondholders are pulling out of Ukraine after the military said yesterday that the rebels are mobilizing forces across the war-torn east. The conflict will deepen the country's recession, further deplete foreign-currency reserves and weaken the hryvnia, JPMorgan Chase & Co. said yesterday in a report.
Near the center of Donetsk, the biggest city in the conflict zone, the Organization for Security and Cooperation in Europe said yesterday its monitors saw a convoy of 43 unmarked military trucks. Several of the vehicles were towing howitzers and multi-launch rocket systems, according to the OSCE.
"We see reinforcement," Poltorak said today. "We follow their movements, we know about their locations and of course we expect their unpredictable actions. The main task is now to prepare for conducting military actions."
'Violent Conflict'
The rebels say they've been shelled by Ukrainian forces 30 times during the past three days, according to the website.
German Foreign Minister Frank-Walter Steinmeier told reporters yesterday in Berlin that events on the ground suggest "the parties are making renewed preparations for violent conflict."
The U.S. and the European Union blame Russia for fueling the latest tensions and say it hasn't adhered to a Sept. 5 cease-fire signed in the Belarusian capital of Minsk. European nations may tighten sanctions as a result.
EU foreign ministers will discuss "restrictive measures" against Russia when they meet next week, Maja Kocijancic, spokeswoman for EU foreign-affairs chief Federica Mogherini, said yesterday.
Further economic penalties aren't planned, with the bloc considering targeting people associated with "illegal" elections in rebel-held areas of Ukraine on Nov. 2, German Chancellor Angela Merkel said.
Russia's ruble, which has fared worse than any other currency during the past three months, was 0.1 percent stronger at 46.2996 per dollar at 4:18 p.m. in Moscow.
Before it's here, it's on the Bloomberg Terminal.
LEARN MORE