Sotheby's $343 Million Sale Led by Jasper Johns's 'Flag'
James Tarmy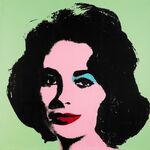 The sale of Mark Rothko, Andy Warhol and Jasper Johns artworks long held in private collections helped Sotheby's tally $343.6 million of postwar and contemporary art.
The auction house last night was unable to surpass its record set Nov. 4, when $422 million of Impressionist and modern art was sold. The total beat its $323.6 million low estimate but failed to reach its upper level of $419 million. The tally also is less than the $380.6 million New York-based Sotheby's took in at its equivalent evening sale last November.
A packed crowd sat underneath two mobiles by Alexander Calder that were included in the sale. A bronze spider by Louise Bourgeois mounted on the wall later sold for $7.1 million, $1 million more than its high estimate. Bidders from 38 countries - - 40 percent of whom were outside the U.S. -- participated in the sale. Of the 78 lots, 67 sold. Prices include commissions, estimates don't.
"What I really like about this auction is that there's a level of connoisseurship in the works they're offering," said Clayton Press of Linn Press LLC, an art-advisory firm based in Ewing, New Jersey.
After spirited bidding by four people, "Flag" by Jasper Johns, a 17.5-inch wide American flag painting made from encaustic and silk from 1983, sold for $36 million, setting an auction record for the artist.
Top Lot
Johns's previous record was set in 2010 for a similar encaustic and newspaper American flag, which sold for $28.6 million at Christie's in New York. Last night's "Flag," which remained in a private collection since 1983, had been valued at $15 million to $20 million.
The top lot of the night was "No. 21 (Red, Brown, Black and Orange)," an almost 8-foot-tall 1951 painting by Rothko that had previously never come to auction. It fetched $45 million, below its $50 million estimate. A smaller Rothko painting from 1969 in two shades of brown sold for $3.5 million, falling within its estimate of $3 million to $4 million.
The sale came on the heels of yesterday's auction of the collection of the late American heiress Rachel "Bunny" Mellon, where two paintings by Rothko sold for a combined $76.5 million.
"Yes, a number of Rothkos have come up," said Simon Watson, a New York and Sao Paulo-based art adviser. "But there are a lot of people looking."
Richter Work
Like "Flag," a number of works were in private collections for a long time or hadn't been viewed by the public for years. Rothko's "No. 21" was owned for more than 40 years by Sao and Pierre Schlumberger, whose family founded the oil exploration company that bears their name.
Gerhard Richter's blazing red "Abstraktes Bild" from 1991 sold for $21.4 million, or just over its high estimate of $20 million. The abstract painting was last exhibited in London in 1995.
Warhol's "Liz #3 (Early Colored Liz)," a 1963 portrait of the actress Elizabeth Taylor, valued at about $30 million, sold for $31.5 million. After it was purchased by a private collector in Turin, Italy, in 1972, it was seen by the public just once, at the Fondation Beyeler in Switzerland in 2000.
Warhol's Wig
Another Warhol, a 1986 pink silkscreen "Self Portrait (Fright Wig)" valued at $12 million to $18 million, sold for $11.4 million. The sale underscored the speed with which some top lots have appreciated. The same painting sold for 5.4 million pounds ($8.5 million) two years ago at Sotheby's in London.
Both the self-portrait and the Liz painting had guarantees, in which the auction house or a third party agrees that the work's consignor will receive a minimum amount of money ahead of the sale.
Warhol overall had a mixed evening. His purple portrait of actress Brigitte Bardot went for $11.6 million, just above its low estimate of $10 million. A blue portrait of Jacqueline Kennedy Onassis fetched $1.7 million, just under its high estimate of $2 million. Judy Garland's silkscreen sold for $1.2 million, slightly above its low estimate of $1 million. A quadruple portrait of Sao Schlumberger didn't sell at all. Neither did the artist's "Little Electric Chair," a paint and silkscreen ink on canvas with a high estimate of $9.5 million.
No Buyer
The big disappointment of the evening was "Moon (Yellow)" by Jeff Koons, which was guaranteed, and failed to sell. The stainless-steel sculpture, which was owned by artist Damien Hirst, was estimated at $12 million to $18 million.
"We take risks, we take guarantees, and we do have expertise," said Alex Rotter, co-head of contemporary art worldwide at Sotheby's. "We believe in the work and we believe in Jeff Koons."
Other works that didn't find buyers were a 1953 blue Ad Reinhardt painting with a high estimate of $7 million, a blue and black abstract oil painting by Sam Francis with a high estimate of $5 million, and an ebullient, yellow purple and green painting by Keith Haring, estimated at $3 million to $5 million.
Despite those setbacks, several sales at Sotheby's could be seen as encouraging indicators for Christie's and Phillip's postwar and contemporary sales tomorrow and Nov. 13.
All three houses, for instance, are offering mostly white paintings by the Robert Ryman. At Sotheby's, a painting by the artist from 1961, which has flecks of green in it, had the highest estimate -- $15 million to $20 million. It sold for $15 million, a record for the artist. A second, smaller Ryman painting, "Gate," from 1995, had an estimate of $6 million to $8 million, and sold for $6.2 million.
Each of the auction houses also has an inkjet painting by Wade Guyton. Sotheby's sold a diptych of two, 7-foot-tall abstracted red Xs on a white background for $4 million. Painted in 2010, the work had a presale estimate of $4 million to $6 million.
"I think it's insane," dealer Christophe Van de Weghe said of the number of Guytons at auction. "I think Guyton is way too expensive. It should be less than half."
Before it's here, it's on the Bloomberg Terminal.
LEARN MORE