Sanctioned Russian Banks Said to Woo Exporter Dollars
Yuliya Fedorinova and Anna Baraulina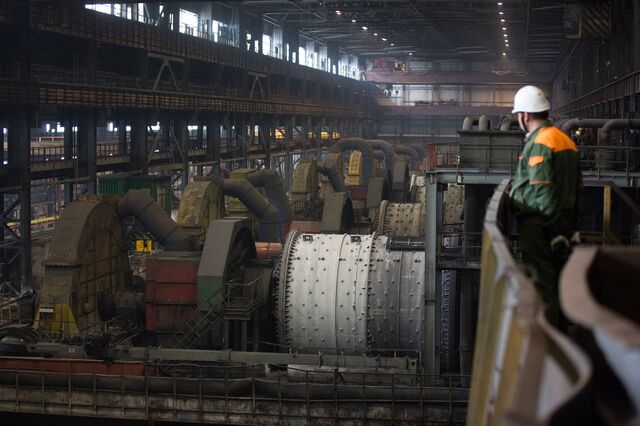 Russian banks cut off from U.S. and European capital markets by sanctions are wooing exporters with higher rates for deposits in euros and dollars, according to three people with knowledge of the situation.
Steelmaker OAO Severstal, which raised about $2 billion selling its U.S. assets in September, got offers to hold cash with Russia's two biggest lenders at rates of 6 percent to 7 percent, compared with about 1 percent from international banks, two of the people said, asking not to be identified as the talks were private. OAO Novolipetsk Steel has pitches for as much as 5 percent, one person said.
Barred by the U.S. and the European Union from borrowing for more than 30 days, Russia's three biggest lenders are seeking dollar and euro funding to meet clients' needs and pay back their own debt. The sanctions, rolled out as a pro-Russian separatist conflict flared in eastern Ukraine, raised borrowing costs, stoked capital outflow and led to a record currency rout.
The banks, including state-run OAO Sberbank and VTB Group, are willing to pay 4.5 percent to 7 percent for long-term dollar deposits, compared with about 1 percent to 2 percent previously, the two people said. The biggest international banks are ready to pay about 1 percent, they said.
Ruble Slump
The premium traders are willing to pay for dollars rather than rubles reached a record on Oct. 10, data compiled by Bloomberg show. The so-called three-year basis swap has since strengthened 92.5 basis points to minus 208.
Some international banks' Russian arms that depend on the local market for funding have had to raise rates to compete, Igor Bulantsev, head of Nordea Bank AB's Moscow-based unit, said by phone yesterday. He said his bank, which gets funding from its Swedish parent, gives 0.1 percent to 1.5 percent rates for corporate clients' currency deposits.
Severstal and Novolipetsk Steel, known as NLMK, cut its ratio of net debt to earnings before interest, taxes, depreciation and amortization to less than 1 in the third quarter as a weakening ruble helped them reduce costs. The ruble has slumped 22 percent in the past three months, the worst performance among about 170 currencies tracked by Bloomberg.
Severstal has moved some cash from international lenders, two of the people said. The company's press service declined to comment on its bank deposits.
Competitive, Attractive
The steelmaker, controlled by billionaire Alexey Mordashov, will probably keep about $1 billion of its proceeds from the U.S. asset sale in a dollar account at a "very good rate" after paying out the other $1 billion in dividends, Chief Financial Officer Alexey Kulichenko told investors on a conference call on Nov. 5. It is more attractive to keep the money in dollar deposits than repay debt, he said.
Sberbank declined to comment. Rates have been rising in the market, according to VTB.
"VTB's currency-deposit rates are always in line with the market and are competitive," the lender's press service said, declining to provide details for corporate clients. "The current foreign-exchange liquidity deficit has led deposit rates to increase."
Funding costs have been volatile recently, Ekaterina Trofimova, first vice-president of Gazprombank, said today through the bank's press service. "The rate of 5 percent is adequate, but only for long-term deposits, and it is correlates with Eurobond yields for the largest banks," she said.
NLMK is considering offers, CFO Grigory Fedorishin said yesterday in an e-mailed response to questions, without disclosing any details.
"We actually have received some appealing proposals for currency deposits," Fedorishin said. "It may bring us additional financial benefits given our liquidity is mostly dollar and euro denominated."
Before it's here, it's on the Bloomberg Terminal.
LEARN MORE