With Doctor's Release, There Are No Ebola Patients In The U.S.
Robert Langreth and John Lauerman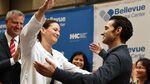 In the end, public health officials turned out to be right. The U.S. can stop Ebola in its tracks.
After the release from the hospital yesterday of the country's last confirmed Ebola patient, Craig Spencer, the U.S. is free of the disease for the first time since early September. While there were missteps along the way, the virus hasn't been the U.S. public health disaster that many feared.
"It is very unlikely we will see sustained transmission of the Ebola virus in the United States," said Charles Chiu, an infectious disease physician who studies Ebola at the University of California, San Francisco. "It is a vindication of the CDC's approach to managing the cases."
Thomas Frieden, the Centers for Disease Control and Prevention director who was taken to task last month by Republican lawmakers, will testify today on the Ebola response before the U.S. Senate Committee on Appropriations. Health and Human Services Secretary Sylvia Mathews Burwell, Homeland Security Secretary Jeh Johnson and Anthony Fauci, director of the National Institute of Allergy and Infectious Diseases, are also scheduled to appear.
The CDC has toughened its protection policies for caregivers, and continues to advise that they be vigilant, asking patients whether they've visited areas where Ebola is spreading and using protective gear with suspected cases.
"What we said all along is that we can prevent this from spreading in the U.S. with isolation and good contact tracing," said Tom Skinner, a spokesman for the agency. "We're not out of the woods yet, and we can't let our guard down. As long as the disease is spreading in West Africa, it's likely we're going to see more cases in the U.S."
CDC Predictions
Nine people have been treated for Ebola in the U.S., beginning with Kent Brantly, who was infected while doing relief work and flown to the U.S. in August for care. Since then, the CDC has had to adjust while learning more about how to manage the virus, said Linda Greene, an infection prevention specialist at Highland Hospital in Rochester, New York, and a former board member at the Association for Professionals in Infection Control and Epidemiology. The agency has had to "look at the knowledge they have and use that knowledge based on U.S. experience."
One thing infection-control experts knew was that Ebola isn't that easy to transmit until its late stages. Hundreds of people in Texas and Ohio who may have had contact with Ebola victims have completed three weeks of monitoring without getting sick. "What we're seeing is exactly what CDC predicted," Greene said.
Better Gear
To be sure, many health-care professionals remain concerned about the level of training and preparedness. Nurses around the country are planning to hold strikes, rallies and vigils today in a campaign organized by the National Nurses United union. The protesters want better gear and procedures for health-care workers and patients, according to the union.
More than 13,000 people have been infected with Ebola in the West African countries of Liberia, Sierra Leone and Guinea this year, and almost 5,000 have died, according to the World Health Organization.
Spencer, the New York doctor who contracted the potentially lethal disease while doing humanitarian work in West Africa, is back home after his release from Bellevue Hospital Center with a clean bill of health. Seven others treated in U.S. hospitals have been cured. One died: Thomas Eric Duncan, the Liberian who was released from a Dallas hospital in September before returning with worse symptoms.
Crucial Mistake
Kaci Hickox, the nurse briefly confined against her will after returning from volunteering in Sierra Leone, hasn't shown any signs of infection. In New York City, 289 people are being monitored, mostly people who recently returned from one of the three affected countries in West Africa.
While the resolution of the U.S. cases is good news, it would be a mistake to allow attention to the epidemic in West Africa to fade, said Michael Osterholm, director of the University of Minnesota's Center for Infectious Disease Research and Policy in Minneapolis.
"I'm afraid we're going to completely lose focus," he said. "This is really about West Africa."
When the disease first arrived at Texas Health Presbyterian Hospital Dallas, the staff may have made a crucial mistake in failing to confirm that Duncan had just returned from Ebola-ravaged Liberia. After two nurses became sick, including one who traveled on flights between Cleveland and Texas after treating Duncan, it set off fears they might have spread Ebola to others. The CDC and state health departments traced and monitored hundreds of possible contacts for signs of potential infection.
'False Assurances'
CDC director Frieden, who pledged to stop Ebola "in its tracks" on Sept. 30, was taken to task after the two nurses fell ill. The 185,000-member National Nurses United union said Frieden unjustly blamed hospital workers for the Dallas infections. Republican Congressmen Pete Sessions of Texas and Tom Marino of Pennsylvania called for him to resign.
Marino said in an e-mailed statement yesterday that he was still unhappy with the CDC response. "The initial information and false assurances were unacceptable," he said. "And we still have serious questions which have yet to be answered."
When Spencer was taken to Bellevue, New York Governor Andrew Cuomo, a Democrat, and New Jersey Governor Chris Christie, a Republican, instituted quarantine policies for people coming from affected countries in West Africa that went beyond the CDC's recommendations.
In a statement yesterday, Cuomo thanked the New York City government for helping manage Spencer's case. He didn't mention the CDC, which sent a team to assist before the doctor's diagnosis was announced. Kevin Roberts, a spokesman for Christie, didn't immediately respond to a telephone call and e-mail.
"We're going to see occasional additional cases of Ebola in our country. This is not the last one," Ron Klain, the White House's Ebola response coordinator, said on MSNBC yesterday. "I think that we've seen an improvement of all aspects of our response."