Pro-Choice Groups Declare a Sort of 2014 Victory
NARAL and Planned Parenthood remind Republicans that they won by promising to make birth control more accessible.
By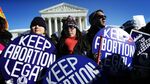 Late Wednesday morning, two of the heaviest hitters in the pro-choice movement released some post-election polling data to prove that their politics were still winning. Only 19 percent of voters agreed that "having an abortion is morally wrong and should be illegal." In Colorado, the state where the punditocracy agreed that a "war on women" message had failed the Democrats, abortion and "access to health care like cancer screenings and birth control" were more winning issues than even Social Security and Medicare. Depending on how the question was framed.
What got Washington's attention was not the numbers, but the spin. "What we saw this year was many anti-choice Republicans realizing this and running away from—and in many cases, flat out lying about—their own record when it came to both choice and access to birth control," said Ilyse Hogue, President of NARAL Pro-Choice America, in a statement accompanying the polls. "Voters are not stupid."
Cecile Richards, president of the Planned Parenthood Action Fund, made the same point. "Politicians like Cory Gardner, Thom Tillis and Joni Ernst won by moderating their positions on access to birth control and abortion," she said. "This data clearly shows that voters didn't elect them to restrict women's access to health care, and voters will hold them accountable to what they promised."
And this is a sore point for progressive women. Gardner and Tillis, in particular, attempted to blunt Democratic attacks on the choice issue by advocating the availability of birth control over the counter. In a much-copied bit of adwork, Gardner was filmed telling a crowd of smiling women that "the pill ought to be available over the counter, round the clock, without a prescription," while Democrats wanted to put "government bureaucrats" in charge of choice.
When Tillis tried this, Jess McIntosh, the communications director for EMILY's List, accused him of "mansplaining" to female votes. But Tillis managed to defeat a female senator, Kay Hagan. The new goal of pro-choice groups: Call out Republicans when they failed to actually deliver on birth control.
"Voters will absolutely hold them accountable," wrote McIntosh in an email. "It's one of the most craven things I've seen Republicans do—and it's so easy to track, it's also one of the most shortsighted. And I think the 2016 presidential primary is gonna look a lot different than Walker saying the final decision is up to the woman, and Gardner & Co. pushing OTC birth control. "
So far, the newly elected class of Republicans haven't talked about scheduling a birth control bill. (Senators who are doing orientation today have generally been discouraged from taking policy questions from the press.) Democrats never found an effective 2014 rebuttal to the "OTC birth control" counter-spin. Yet they remember 2011—they remember how a victorious House GOP moved quickly to introduce a "No Taxpayer Funding for Abortion Bill," and how that led indirectly to crippling gaffes by some of the party's 2012 Senate candidates.