Million-Dollar Homes in Sydney Highlights RBA's Dilemma
Nichola Saminather and Benjamin Purvis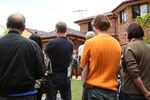 The dilemma for Australia's central bankers has become starker: the median asking price for a Sydney house topped A$1 million ($870,000) for the first time even as the national jobless rate climbed to an 11-year high.
Prime mortgage arrears below 1 percent mean owners are having less difficulty paying back home loans than at any time in the past seven years, according to Standard & Poor's, even while unemployment rose to 6.2 percent. In Sydney, central bank stimulus helped drive a 23 percent surge in the median asking price for a stand-alone dwelling over the past three years, SQM Research Pty. data shows.
The Reserve Bank of Australia has fretted about the property boom spurred by its decision to hold the cash target at a record low 2.5 percent for more than a year to aid the economy as a once-in-a-century mining investment boom crumbles. The central bank has said banking regulators should consider tighter lending rules -- known as macroprudential tools -- to cool house prices as the RBA seeks to avoid interest-rate increases that would drive up an Aussie dollar above its historical average.
"I don't think that just because we've crossed over the million-dollar mark, the market will start to correct," said Louis Christopher, Sydney-based managing director of SQM. "It'll continue to keep on rallying for a while yet, until we see some action from the RBA or potentially some macroprudential tools."
Price Surge
The surge in home prices across Sydney has come even as the supply of properties for sale expanded, according to RP Data Pty. About 70 percent of homes that go to auction each week are sold, the researcher said in a Nov. 3 statement.
The boom, coming amid weakness in other parts of Australia's economy, poses a quandary for the central bank. The nation's unemployment rate was at 6.2 percent in October, the highest level since October 2002, and gross domestic product rose 0.5 percent in the three months through June, compared with a 1.1 percent gain the previous quarter, according to the statistics bureau.
"The housing recovery has come through even more quickly than we forecast, pulling some growth into 2014 at the expense of 2015," Morgan Stanley economists led by Daniel Blake said in a Nov. 5 report, adding that the economy needs more stimulus from monetary or fiscal policy to avoid a recession. "The risk we see is that conditions almost certainly need to deteriorate before this will occur, given the corners that both monetary and fiscal policy makers find themselves in."
Weaker Outlook
The unemployment rate will climb to 6.8 percent and the economy will expand just 1.9 percent in 2015, Blake said.
JPMorgan Chase & Co. lowered its forecast for Australian growth in 2015 to 2.8 percent, from a previous prediction of 3.3 percent, Sydney-based economist Stephen Walters wrote in an e-mailed note to clients dated today.
"Our expectation of softer consumer spending is the principal reason for the downgrade," Walters wrote.
Australia is also grappling with the disinflationary effect of falling commodity prices, forcing the RBA to join other central banks around the world in adjusting to weaker-than-forecast inflation, or in some cases, deflation. Australia's 10-year inflation swap was at 2.62 percent yesterday, having fallen as low as 2.60 percent last week, matching the lowest level since May 2009, data compiled by Bloomberg show.
Disinflationary Effect
Global stimulus is "not working like it used to," Bill Gross, co-founder of Pacific Investment Management Co., who left in September to join Janus Capital Group Inc., wrote Nov. 3 in an outlook on his new firm's website. "The trillions seem to seep through the sandy loam of investment and innovation straight into the cement mixer of the marketplace. Prices go up, but not the right prices."
To balance the housing market's strength with the weakness in the rest of the economy, the RBA has indicated since September that it's becoming more amenable to home-lending curbs. In a U-turn on past dismissals of macroprudential measures, which had included Governor Glenn Stevens describing them as recently as in August as an "international fad," the central bank is saying regulators plan measures to target speculation by people buying homes as investments.
Rising housing values have helped spur a recovery in the market for Australian residential mortgage-backed securities, which ground to a halt in the wake of the 2008 global financial crisis. Borrowers have issued more than A$25 billion of mortgage bonds so far in 2014, almost double the amount sold in all of 2012, according to data compiled by Bloomberg.
Seven-Year Low
The level of arrears for Australian prime mortgages backing the securities dropped to the lowest in seven years in September, according to ratings company Standard & Poor's. Loan repayments more than 30 days late fell by 11 basis points to 0.98 percent, slipping below 1 percent for only the second time since 2005, Prime mortgages account for 98 percent of all residential mortgage-backed securities outstanding in Australia.
Mortgage arrears aren't in danger of an imminent reversal because there's unlikely to be a major increase in either unemployment or interest rates, said Nick Bishop, who helps oversee more than A$12 billion as head of Australian fixed income at Aberdeen Asset Management Ltd. A growing workforce from higher immigration is part of the reason for the uptick in unemployment, and the RBA isn't likely to start raising rates in the first half of 2015, he said.
"We don't discount that there is a little upside risk to the unemployment rate from here, but it's not material," he said. "Typically in Australia, borrowers are well ahead of their mortgage repayment schedules, so they already have built-in buffers that would allow them to stop paying for several months without any material impact on arrears."
Before it's here, it's on the Bloomberg Terminal.
LEARN MORE