Lazard's Weiss Selected as U.S. Treasury Undersecretary
Ian Katz and Zachary R. Mider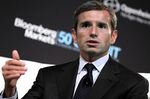 Lazard Ltd.'s Antonio Weiss will be nominated by President Barack Obama as the U.S. Treasury Department's top domestic finance official, the White House said in a statement.
Weiss, who has been a top Wall Street donor to Obama, is global head of investment banking at Lazard, a merger-advisory firm that has been involved in several tax-inversion deals. The Obama administration has been trying to curtail the practice, in which companies reduce taxes by moving their addresses overseas.
As undersecretary for domestic finance, Weiss, 48, would coordinate policies on banking, debt financing, capital markets and regulation. The undersecretary, who is subject to confirmation by the U.S. Senate, also works on implementation of the Dodd-Frank financial law.
Weiss, who joined Lazard in 1993, has also been global head of mergers and acquisitions for the firm and a vice chairman of European investment banking. He would replace Mary Miller, who left the department in September. Matthew Rutherford, who had been assistant secretary for financial markets, has been acting undersecretary since Miller left.
H. Rodgin Cohen, senior chairman of New York-based law firm Sullivan & Cromwell LLP, which has done work with Lazard, said it would be absurd for Washington to blacklist bankers who've been involved with inversions.
'Purity Test?'
"Why should a banker not work for any one of hundreds of companies that have one sort of tax break or another?" Cohen said. "Inversions are just one. We have a tax code that is just riddled with loopholes and exceptions. So should you never work on any of those? Is there a purity test?"
He said Weiss is "extremely good with people and able to form consensus in a low-key way."
Weiss's nomination was announced eight days after the midterm congressional elections, during which some Democrats campaigned on opposition to corporate inversions. Typically, a nominee to a top administration post is vetted for weeks or months before an announcement is made.
Lazard advised on three of the last four inversions announced in the U.S., including Burger King Worldwide Inc.'s planned adoption of a Canadian tax address through a takeover of Tim Hortons Inc. Weiss is a longtime adviser to the group of Brazilian investors who control Burger King.
'Unpatriotic' Loophole
Lazard itself switched its legal address from Delaware to tax-free Bermuda in 2005 when it sold shares to the public for the first time, using a gap in an anti-inversion statute that the Treasury Department closed through regulation later that year. The bank continues to be run from New York.
Obama has used aggressive rhetoric against inversions. In July he called them an "unpatriotic tax loophole" and said the U.S. should "embrace an economic patriotism."
Treasury Secretary Jacob J. Lew in September announced steps to make inversions more difficult, including a ban on "hopscotch" loans that let companies access foreign cash without paying U.S. taxes. The Treasury's measures also impose curbs on actions that companies can use to make such transactions qualify for favorable tax treatment.
The administration is considering further rules to limit so-called earnings stripping, the post-inversion maneuvers companies can use to push profits out of the U.S.
Harvard MBA
Weiss, who holds a master's of business administration degree from Harvard University and is publisher of the Paris Review literary magazine, worked on many of the largest and high-profile M&A situations in the last six years -- often involving multibillion-dollar takeovers of iconic American consumer companies.
He was a key adviser to Belgian-Brazilian brewing company InBev when it acquired Anheuser-Busch in 2008 for $52 billion. Later, he advised the firm on its $20 billion acquisition of Mexican brewer Grupo Modelo in 2013.
This year, he advised Reynolds American Inc. on its $26.5 billion purchase of U.S. tobacco rival Lorillard Inc., a complicated four-way transaction because Reynolds needed funding for the deal from British American Tobacco Plc, one of its largest holders, while also negotiating a sale of several cigarette brands to Imperial Tobacco Group Plc to appease regulators.
Weiss will "transition his responsibilities at Lazard over the next few weeks," Kenneth Jacobs, Lazard's chairman and chief executive officer, said in an internal memo released by the firm. He credited Weiss with building "one of the strongest global investment banking advisory networks in the industry."
Jacobs said Alex Stern will expand his role as chief operating officer "to ensure continuity and provide leadership" in Lazard's global financial advisory business.
Before it's here, it's on the Bloomberg Terminal.
LEARN MORE