Will Ferrell's Funny Or Die Seeks Serious Money in Sale
Lucas Shaw and Alex Sherman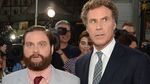 With video skits such as Will Ferrell's "The Landlord" and Zach Galifianakis' deadpan interview spoof "Between Two Ferns," the comedy website Funny or Die has earned a reputation as a destination for unconventional laughs. Now it's looking for some serious money.
Funny or Die, founded by Ferrell, Adam McKay and Chris Henchy, has hired a financial adviser to evaluate options including a possible sale, Chief Executive Officer Dick Glover said in a memo to employees. The asking price is $100 million to $300 million, people with knowledge of the matter said.
"We've received unsolicited interest from a number of companies," Glover wrote. "We are NOT trying to sell Funny or Die, but we thought it wise to engage some experts to help us evaluate the situation. In the meantime, if any of you mistakenly receive a briefcase full of cash, please bring it to my office immediately."
Management at Funny or Die is working with the investment bank Moelis & Co., which has contacted potential buyers to gauge their interest in a deal, said one person, who asked not to be identified because the review is private.
Funny or Die, which has spoofed everything from Mary Poppins to Kim Kardashian's sex tape, got a boost in March when U.S. President Barack Obama appeared with Galifianakis on "Between Two Ferns" to discuss health care. The site's first video, "The Landlord," has been viewed almost 82 million times.
The venture joins a growing roster of Web video companies using current high valuations to raise money or sell. Maker Studios was sold to Walt Disney Co. for $500 million in May, while Vice Media Inc. raised $500 million in September selling 10 percent stakes to Technology Crossover Ventures and A+E Networks, valuing the company at $2.5 billion.
Time Warner Inc. already holds a minority stake in Los Angeles-based Funny or Die, which has received funding from Sequoia Capital.
Funny or Die carved a niche in short-form humorous video just as Google's YouTube and other video-sharing sites gained widespread popularity.
In "The Landlord," a 2 minute, 21-second skit, Ferrell plays a down on his luck tenant who is late with the rent. His landlord is a foul-mouth toddler played by McKay's daughter Pearl. Dressed as a princess, she demands the rent, calls Ferrell names and threatens to evict him before leaving with a beer. "Come, mommy," she says to someone offscreen at the end.
Like Vice Media, Funny or Die has attracted a following away from YouTube, the largest video site in the world. In addition to video uploaded to its own website, Funny or Die produced a show for Time Warner's HBO and has collaborated with the company's TBS and Adult Swim on videos and advertising.
The company parlayed its comedy credentials and connections with top Hollywood talent into deals to produce entertainment videos with companies including Under Armour Inc., General Motors Co. and PepsiCo Inc.
Before it's here, it's on the Bloomberg Terminal.
LEARN MORE