The FCC Isn't That Moved by Obama's Net Neutrality Push
Analyzing the FCC's statement on net neutrality following Obama's on Monday.
By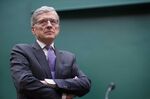 This story contains corrected material, published on Nov. 12, 2014
Siva Vaidhyanathan knows about net neutrality. As Robertson Professor in Media Studies a the University of Virginia, he's one of the leading voices on the issue. So when President Obama's clear backing of net neutrality on Monday was followed by a lukewarm reply from the Federal Communications Commission, we turned to Vaidhyanathan. Here, he translates the letter, which was signed by Chairman Tom Wheeler.
Vaidhyanathan: "Chairman Wheeler has abandoned his previous endorsement of a fast lane. He said this a month ago in a quieter fashion, but I think it's become clear to him that that's an unacceptable policy and that it would directly undermine network neutrality." 

Vaidhyanathan: "Wheeler is declaring that the president's statement will be included in the record, just like every other citizen comment that the FCC has elicited."

Vaidhyanathan: "The big message here is not to hold our breath on new rules coming any time in the next couple of weeks. This is something they're going to study very closely and they might not end up agreeing with the president."
CORRECTION: An earlier version of this story misstated Siva Vaidhyanathan's title.