The Bleak Landscape for Obamacare if the Anti-Subsidies Case Wins
No Republican governor suffered from failing to expand Medicaid.
By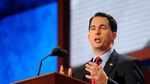 Progressive reporters, facing yet another Obamacare lawsuit that has evolved rapidly from "ludicrous" to "imminent," are starting to imagine the map of a post-King v. Burwell dystopia. If conservatives convince the Supreme Court that people are not entitled to subsidies if they live in states without health care exchanges, what happens?