The Bleak Landscape for Obamacare if the Anti-Subsidies Case Wins
No Republican governor suffered from failing to expand Medicaid.
By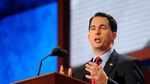 Progressive reporters, facing yet another Obamacare lawsuit that has evolved rapidly from "ludicrous" to "imminent," are starting to imagine the map of a post-King v. Burwell dystopia. If conservatives convince the Supreme Court that people are not entitled to subsidies if they live in states without health care exchanges, what happens?
"If the Court rules in favor of the lawsuits," writes Jonathan Cohn, "it would likely create a political crisis, with Republicans from red states facing cross-cutting pressures. They'd hear it from conservatives out to kill Obamacare, of course, but they'd also face an outcry from constituents, many of them middle-class, losing coverage and demanding action."
Greg Sargent is less convinced, and suggests that "some states impacted by the decision, presumably, would move to set up their own exchanges, to prevent their constituents from having health coverage yanked violently out from underneath them," but it's "reasonable to assume more conservative states might be less likely to do this."
It's more than reasonable—it's safe to assume this. The 2014 election gave Democrats dozens of chances to punish Republican politicians for dragging their feet on Medicaid expansion and on the creation of exchanges. In exactly zero cases did Democrats succeed. They failed to unseat Wisconsin Governor Scott Walker, whose defeat could have frozen the blood of Republicans in other states. That was not all:
* Democrats didn't oust Maine Governor Paul LePage, who vetoed Medicaid expansion three times. Not only did LePage grow his margin from his 2010 win, but his Republicans took back the state senate, ending Democratic chances of another Medicaid fight.
* Former Florida Governor Charlie Crist lost his comeback bid in Florida, after telling voters that he would come into office with an executive order expanding Medicaid.
* Wendy Davis, whose name now causes an involuntary shudder in Democrats, called her support for Medicaid expansion a "very distinct difference" between her and Republican Greg Abbott. She lost by the largest margin of any Democratic candidate for governor since 1998; a Republican won the race to replace her in the state Senate.
* Asa Hutchinson was elected governor of Arkansas after calling the state's popular "private option" for Medicare a mere "pilot program" that could be ended. He won as his fellow Republicans grew their majorities in the legislature—who, like him, had been skeptical of the program.
In no state did a Republican regime that decided against co-operating with the ACA to expand coverage experience any political downside whatsoever. Republicans are ready to explain a King victory as yet more proof that Democrats voted for a sloppy law without reading it. The political pressure to "fix it" does not exist in their states, after several elections where it could have been created.
And the political pressure on a Republican Congress? Just as vaporous. Conservatives, from the King attorneys on down, have already begun to argue that the lawsuit is not a challenge to the ACA so much as a chance for Congress to decide whether to fix the language or not. The demand on Republicans in the House and Senate, from conservatives, would be to let the law die. They wouldn't need to hear any other demands.