Novak Djokovic Defeats Cilic to Extend Indoor Run to 28
Danielle Rossingh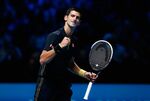 Put a roof over a tennis court, and Novak Djokovic becomes unbeatable.
The top-ranked Serb swept aside U.S. Open champion Marin Cilic 6-1, 6-1 yesterday in his first group match at the ATP World Tour Finals to extend his win streak on indoor courts to 28 matches. His last defeat indoors dates back to Paris in 2012, when he lost to American Sam Querrey.
"It was a great performance," Djokovic said in a courtside interview at London's O2 arena after it took him 56 minutes to beat Cilic for the 11th time in a row. "Obviously Marin, as the U.S. Open winner a couple of months ago, has a lot of confidence and is a great quality player but I managed to neutralize his serve, get a lot of balls back in play and that was part of the tactics."
The other group match yesterday was equally one-sided, with Australian Open champion Stan Wawrinka of Switzerland needing two minutes longer to beat Czech Tomas Berdych 6-1, 6-1. Berdych said it was his "worst match of the season."
After two days of play, spectators at the O2 arena have yet to see a deciding third set in the singles competition. All four round-robin matches have so far been won in straight sets.
Today, six-time champion Roger Federer takes on U.S. Open finalist Kei Nishikori of Japan while Britain's Andy Murray faces Canada's Milos Raonic. The top two players in each group advance to the semifinals.
Djokovic's run, which includes four indoor titles in the past two years, is the third longest since tennis turned professional in 1968. John McEnroe went 59 matches undefeated indoors, followed by Ivan Lendl with 37.
Indoor Run
Stripping out sun and wind, tennis balls often bounce lower and skid on an indoor court. That benefits players who are aggressive, move well and are good at absorbing and redirecting power, such as the elastic-limbed Djokovic. Growing up in war-torn Belgrade, the seven-time Grand Slam champion sometimes practiced in an empty indoor swimming pool.
"From outdoor hard court that was my most successful and most preferred surface, now I guess it's an indoor court," Djokovic said in a news conference before the start of the season finale for the eight best men's tennis players in the world. "I do feel very comfortable playing, returning, serving in these conditions."
Even though Cilic had come to the O2 arena with a 16-1 win-loss record indoors this season, he was no match for Wimbledon champion Djokovic.
"Novak played really, really solid today," Cilic said in a news conference, adding that he felt "rusty" and "uncomfortable" on the court at times.
'Sloppy Service'
After Cilic won his opening service game, Djokovic rattled off eight games in a row as he dictated play, forcing Cilic into errors. With Djokovic serving for a 3-0 lead in the second set, Cilic got a service break. Although Cilic received a big cheer from the crowd, he faded after that as Djokovic took a 5-1 lead and then won the match on a forehand error.
"I played a sloppy service game," Cilic said.
Djokovic, 27, had come to London with a win in the BNP Paribas Masters in Paris, two weeks after his wife, Jelena, gave birth to the couple's first child, a boy named Stefan.
He's trying to become the first man since Lendl 27 years ago to take three straight ATP Finals titles. He's been spending his days off in London with his team and his dog because his family has stayed at home.
His son has given him a different outlook when he's competing.
"Certain things change psychologically," said Djokovic, who added he has been getting advice on being a tennis-playing parent from father-of-four Federer. "When you're playing for someone and that someone is your son, it's a new motivation."
Before it's here, it's on the Bloomberg Terminal.
LEARN MORE