Japan Leaves Open Chance of Snap Election After Tax Delay
Maiko Takahashi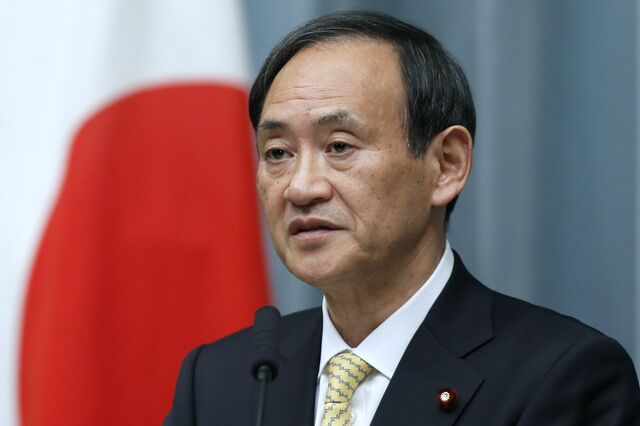 Japan's top government spokesman didn't reject media reports that Prime Minister Shinzo Abe is considering calling a snap election next month should he decide to postpone a planned sales-tax increase.
Chief Cabinet Secretary Yoshihide Suga told reporters in Tokyo today that a decision on an election would be Abe's alone. The prime minister is considering a vote on Dec. 14 or Dec. 21 after deciding on the tax, the Yomiuri newspaper reported today, citing senior members of the government and the ruling Liberal Democratic Party.
With Abe's approval rating sliding and more than two-thirds of the public against the planned tax increase, winning a snap election may secure Abe's position as prime minister with a large majority while the opposition is divided. The risk for Abe is that, without other sources of revenue, Japan's debt burden - - the world's biggest -- will continue to expand.
"Abe may be calculating that the LDP can record a similar landslide this time if he calls an election this year, before the opposition has had time to prepare itself" for an election campaign, Yasunari Ueno, chief market economist at Mizuho Securities Co. in Tokyo, wrote in an e-mailed report today.
The odds that Abe will call an election next month are about 30 percent, said political analyst Hirotada Asakawa. "Even if the ruling Liberal Democratic Party lost seats, they would still hold a majority in the lower house," he said.
Falling Approval
The approval rating of Abe's cabinet fell to 44 percent from 52 percent a month ago, according to a poll released yesterday by public broadcaster NHK. Seventy-four percent of respondents said the planned tax increase to 10 percent next year from 8 percent now should be postponed or canceled, while only 20 percent said it should proceed.
Ruling Liberal Democratic Party heavyweights including Secretary-General Sadakazu Tanigaki and his predecessor Shigeru Ishiba have said in recent days that an early dissolution of parliament is possible. Less than two years into his term, Abe isn't compelled to call a lower house election until 2016.
Banri Kaieda, leader of the opposition Democratic Party of Japan, told reporters yesterday that his party would respond head-on to the challenge should Abe call a snap election. Junior coalition partner Komeito would also be prepared, leader Natsuo Yamaguchi said today, Kyodo News reported.
Robert Feldman, head of Japan economic research at Morgan Stanley MUFG Securities Co. in Tokyo, sees a more than 50 percent chance of a snap poll, basing his call on Abe's decisiveness, and what he sees as the success of Abenomics and Japan's foreign policy. Abe also needs to regain momentum while opposition parties are weak and divided, he wrote in a research note today.
"The wind of a lower house dissolution has started to blow," Toshihiro Nikai, chairman of the LDP's general council, told reporters in Tokyo today, NHK reported.
Advocates, Opponents
Masahiko Shibayama, the LDP's finance panel chief, and Abe advisers Koichi Hamada and Etsuro Honda and have called for a the tax increase to be postponed. Bank of Japan Governor Haruhiko Kuroda and LDP tax panel chief Takeshi Noda have expressed concern about the possibility of the increase not going through.
It would be difficult to respond if confidence in Japan's fiscal position is lost as a result of a delay in the rise, Kuroda said in parliament on Oct. 17.
The sales tax is "really the only tool" for cutting the debt burden, Jerald Schiff, the Japan mission chief of the International Monetary Fund, said in Washington last month. "We will be concerned if they didn't go ahead."
The IMF projects Japan's gross government debt to swell to the equivalent of 245 percent of GDP this year, the most in the world.
The government plans to cut corporate income taxes from next fiscal year, decreasing revenue and putting pressure on its goal to return to a primary balance surplus by 2020.
Postponing the sales-tax rise "may create debate on cutting social security costs and expenditure in the fiscal 2015 budget," said Hiromichi Shirakawa, chief Japan economist at Credit Suisse Group AG in Tokyo and a former Bank of Japan official. "The yen may also strengthen because inflation expectations are likely to fall without a sales-tax rise."
(A previous version of this story corrected an analyst's comment on chance for election.)
Before it's here, it's on the Bloomberg Terminal.
LEARN MORE