Hong Kong Yuan Savings Rate Doubles on Stock Link: China Credit
Fion Li and Alfred Liu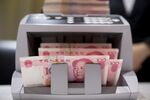 Yuan demand in Hong Kong is rising so fast before a stock link with Shanghai that bank deposit rates for the currency have more than doubled in six months.
The three-month interbank rate jumped to an intraday high of 3.99 percent yesterday from 1.6 percent on May 9, according to data compiled by Bloomberg. HSBC Holdings Plc. offers as much as 6.5 percent interest on one-week yuan deposits, while Dah Sing Banking Group Ltd. pays up to 4.8 percent to savers who convert Hong Kong dollars into one-month yuan deposits.
"Everyone is looking forward to the launch of the stock connect next week," Lawrence Kung, Hong Kong-based head of the deposits department at Wing Lung Bank Ltd., said in a phone interview yesterday. "That's why the banks started raising interest rates for yuan deposits. The yuan deposit business is what every bank is trying to expand as there's a lot of room for development."
The Shanghai-Hong Kong Stock Connect, which will start on Nov. 17, will give international fund managers unprecedented direct access to China's $4.2 trillion stock market and allow a net 23.5 billion yuan ($3.84 billion) of cross-border trading each day. Foreign investors will have to buy yuan in Hong Kong to purchase onshore equities, driving up demand for the currency. The Shanghai Composite Index of stocks has advanced 17 percent in 2014 to a three-year high, while the yuan has rallied 1.7 percent in Hong Kong in the past six months.
Shanghai Inflows
Investors in Hong Kong can buy a maximum net 13 billion yuan of mainland shares daily through the trading link, while 10.5 billion yuan is allowed to come into the city. Standard Chartered Plc expects a drain of as much as 2 billion yuan a day on Hong Kong's offshore yuan pool as "the bulk of" cross-border flows are likely to head to Shanghai initially.
Shares of some of China's biggest dual-listed companies trade at a discount in Shanghai compared with Hong Kong, raising the chances that money will flow to the mainland rather than the other way around. Ping An Insurance (Group) Co. and Tsingtao Brewery Co., for instance, were between 7 and 8.5 percent cheaper in Shanghai today.
"Some of our foreign clients have made inquiries about the stock connect because they are interested in Chinese shares," Stella Lee, president of Success Wealth Management in Hong Kong, said in a phone interview yesterday. "The connect will create long-term demand for the currency globally."
Yuan Supply
The Hong Kong Monetary Authority, anticipating a yuan demand surge, began offering 10 billion yuan of intraday yuan repurchase facilities from Nov. 10. It also appointed seven banks including HSBC and BOC Hong Kong Holdings Ltd. as primary liquidity providers for the currency.
The overnight interbank rate for offshore yuan fell to 1.36 percent today, the lowest since Oct. 14, according to a fixing by the Treasury Markets Association. The rate touched an all-time high of 7.09 percent on Sept. 19.
Hong Kong's pool of savings in the yuan, known officially as the renminbi, is the world's largest outside of China. Deposits totaled 944.5 billion yuan as of Sept. 30, within 1.6 percent of a record 959.9 billion yuan in April.
China has this year appointed clearing banks in several cities including Paris, London and Toronto to promote use of its currency in trade and finance. Global quotas for the Renminbi Qualified Foreign Institutional Investor program, which allows overseas financial institutions to buy securities in China's onshore market with yuan obtained abroad, now stand at 720 billion yuan.
Currency Advances
The onshore yuan has risen 1.25 percent against the greenback in the second half of this year, the best performance among Asia's most-traded currencies, according to data compiled by Bloomberg. It fell 0.03 percent to 6.1269 per dollar as of 3:15 p.m. in Shanghai. In Hong Kong's offshore market, the spot rate dropped 0.06 percent to 6.1359 today, after posting the biggest gain in a month on Nov. 10.
The People's Bank of China engineered a 2.6 percent decline in the yuan in the first quarter to cut one-way bets on the currency and prepare companies for the risk of exchange-rate weakness.
Daiwa Capital Markets estimates that $1 trillion of hot money has flooded into China since the Federal Reserve started quantitative easing in 2008, including through shadow-banking channels such as export financing and metals purchases. It predicts the onshore currency will decline to 6.60 per dollar by the end of next year. The median estimate of strategists in a Bloomberg survey is for levels of 6.10 by the end of this year and 5.98 by end-2015.
Global Push
"The stock connect launch was quite expected as it was just a matter of time, so the impact shouldn't be huge," Tommy Ong, executive director of treasury and markets at DBS Bank Hong Kong Ltd., said over the phone on Nov. 10. "The more important indication is yuan internationalization is accelerating."
Hong Kong is scrapping a daily 20,000 yuan conversion limit on residents, which has been a hindrance as Hong Kong faces competition for offshore yuan. The move, effective from Nov. 17, will put locals on a par with non-residents who have been able to buy unlimited amounts of Chinese currency in the offshore market since 2012.
An upcoming Chinese government bond sale in Hong Kong will exacerbate any yuan supply shortage, Standard Chartered said in a Nov. 10 note. The Ministry of Finance will sell 12 billion yuan of bonds in Hong Kong next week, including 3 billion yuan of two-year notes for the city's residents.
"Global asset managers are implicitly underweight Chinese equities and bonds due to investment constraints, and will continually look to add exposure to China incrementally as the country slowly increases the ability to do so," Sacha Tihanyi, senior currency strategist at Scotiabank in Hong Kong, said in a Nov. 11 note. "We cannot stress enough the importance of this channel of implicit renminbi demand."
Before it's here, it's on the Bloomberg Terminal.
LEARN MORE