Obama Emerges as Strong Advocate of Net Neutrality
Todd Shields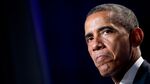 President Barack Obama called for the "strongest possible rules" to protect the open Internet, advocating stricter controls than a regulator he appointed and causing shares of Comcast Corp. and other broadband providers to drop.
"I am asking for an explicit ban on paid prioritization," Obama said today in a statement, referring to so-called fast lanes for preferred Web traffic. His comments tilt the White House against positions advocated by broadband providers and Federal Communications Commission Chairman Tom Wheeler, who said the president's vision has potential legal and policy pitfalls.
Companies led by Comcast, Verizon Communications Inc. and AT&T Inc. argue that only light regulation is needed to ensure providers don't block or slow Web traffic, and they say strict rules would squelch investment. Public policy groups want tough regulations that guarantee all websites are treated equally and can be accessed by people increasingly reliant on the Internet.
"We are stunned the president would abandon the longstanding, bipartisan policy of lightly regulating the Internet" Michael Powell, a former FCC chairman who is now president of the National Cable & Telecommunications Association, said in an e-mail. Members of the trade group include Comcast and Time Warner Cable Inc.
Obama's proposal asks for no blocking of websites, no slowing of Internet content, and no deals that let companies pay for faster delivery of their content. He said the FCC should use utility-style rules that give the agency powers that extend to rate regulation, and forebear from setting prices.
Fast Lanes
Wheeler has been considering a plan that mixes the utility-style regulation Obama advocates with weaker regulatory powers, which may allow for companies to pay more for quicker content delivery to consumers -- what's become known as fast lanes.
"As an independent regulatory agency we will incorporate the president's submission into the record of the Open Internet proceeding," Wheeler said in an e-mailed statement.
The approach suggested by Obama "brings with it policy issues that run the gamut" as well as legal issues, Wheeler said.
New rules would need to win a vote at the five-member agency, which has three Democrats including Wheeler.
"I'm delighted," Michael Copps, a former Democratic member of the FCC, said in an interview on Bloomberg TV. "He came out for the strongest possible kind of network neutrality."
McConnell Criticism
Reactions differed along political party lines. In a statement, Senator Mitch McConnell, the Kentucky Republican expected to lead the Senate next year, said the FCC should reject Obama's proposal.
"It's a very sad day for our government," former Republican FCC Commissioner Harold Furchtgott-Roth said on Bloomberg TV. "Make no mistake -- network neutrality is all about regulating the Internet."
The FCC is replacing rules struck down by a court, and its proceeding has led more than 3.7 million people to file comments to the agency's website.
"The president who promised to take a back seat to no one on net neutrality has finally gotten in the driver's seat," Craig Aaron, president of the policy group Free Press, said in an e-mailed statement. "And he may have saved the Internet at the moment it was in the greatest jeopardy."
'Tremendous Harm'
Broadband companies have told the FCC not to use the regulations that Obama proposed today, which are comparable to how land-based telephone service is regulated.
Obama's proposal if adopted by the FCC "would be a mistake that will do tremendous harm to the Internet and to U.S. national interests," Jim Cicconi, a senior executive vice president at AT&T, said in an e-mailed statement.
Comcast shares fell the most in more than three years, tumbling as much as 6.1 percent. The stock was down 4 percent to $52.95 at the close of New York trading. Time Warner Cable dropped 4.9 percent to $136.50. Verizon Communications closed down 0.3 percent at $50.72, while AT&T rose 0.6 percent to $35.12.
"This would be a radical reversal that would harm investment and innovation, as today's immediate stock market reaction demonstrates," David Cohen, executive vice president at Philadelphia-based Comcast, said in an e-mailed statement.
The company supports an open Internet and believes the FCC can use lighter regulation to set rules against unfairly treating Web traffic, Cohen said.
Merger Impact
Comcast is seeking FCC approval to buy No. 2 Time Warner Cable. Obama's comments likely added to investors' concerns that there will be more concessions demanded around net neutrality for the $45.2 billion acquisition to win regulatory approval, said Roy Behren, who owns shares of Time Warner Cable at Westchester Capital Funds.
Online video provider Netflix Inc., which agreed earlier this year to pay Comcast to resolve problems with slow service, rose 0.8 percent, to $387.27.
"I believe the FCC should create a new set of rules protecting net neutrality and ensuring that neither the cable company nor the phone company will be able to act as a gatekeeper, restricting what you can do or see online," Obama said.
In his statement, Obama said the FCC is an independent agency, "and ultimately this decision is theirs alone."
'Radical Reversal'
Wheeler said the FCC needs more time to write rules, and he didn't give a deadline for action.
Obama's proposal "would be a radical reversal of course that would in and of itself threaten great harm to an open Internet, competition and innovation," Ed McFadden, a Washington-based Verizon spokesman, said in an e-mailed statement. "That course will likely also face strong legal challenges and would likely not stand up in court."
The president's plan "would impose inappropriate regulation on a dynamic industry and would threaten mobile provider's ability to invest and innovate," Meredith Attwell Baker, president of CTIA-The Wireless Association, with members including AT&T and Verizon, said in an e-mailed statement.
Congress may intervene to overturn a new rule under a process that would give Obama a chance to veto the legislature's action.
"'Net Neutrality' is Obamacare for the Internet," Senator Ted Cruz, a Republican from Texas, said in a Twitter post today. "The Internet should not operate at the speed of government."
Senator Ed Markey, a Massachusetts Democrat, said he supported Obama's move.
"When the leader of the free world says the Internet should remain free, that's a game changer," Markey said.