U.S. Strike Reportedly Wounds Islamic State Leader
Zaid Sabah and David Lerman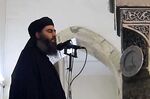 Iraqi officials said they were working to determine if recent U.S. airstrikes injured or killed Islamic State leader Abu Bakr al-Baghdadi, as a Pentagon spokesman discounted that possibility.
Sabah Karhout, head of the Anbar provincial council in western Iraq, said a strike by coalition forces over the weekend near the town of al-Qaim along the Syrian border hit a house where 30 Islamic State leaders were meeting, including al-Baghdadi. Many of them were killed, he said in a telephone interview yesterday.
Al-Baghdadi was reported to be injured and transferred to the Syrian city of al-Raqqa for medical treatment, Karhout said.
U.S. officials said they couldn't confirm that such an attack took place. A statement today from U.S. Central Command said only that two strikes near al-Qaim on Nov. 7 destroyed an armored vehicle and two checkpoints.
Asked if al-Baghdadi was being targeted personally by the U.S., Army Colonel Steve Warren, a Pentagon spokesman, told reporters today, "Not to my knowledge, no."
Lieutenant Colonel Tom Crosson, a Defense Department spokesman, said on Nov. 8 that airstrikes the previous day had targeted a gathering of leaders of the extremist group near the city of Mosul. He said those strikes destroyed a 10-vehicle convoy.
While Crosson had said "that we cannot confirm" whether al-Baghdadi was present at Mosul, Warren said today the U.S. had "reason to believe" the convoy carried "battlefield leaders - - more tactical-level leadership."
On the Move
Al-Baghdadi, the Islamic State leader who has declared a self-styled caliphate in western Iraq and northeast Syria, recently moved back and forth between Mosul and al-Qaim, Karhout said. The house that was struck in al-Qaim had been seized by Islamic State when it captured the town and previously belonged to a former member of the Anbar provincial council, he said.
Abu Maan al-Taie, a spokesman for Sunni tribes supporting the insurgents, and Ahmed al-Dulaimi, a Sunni tribal leader, denied that al-Baghdadi was killed. Twitter accounts often used by the insurgent group haven't reported the attacks.
The al-Qaeda splinter group led by al-Baghdadi, an Iraqi with a $10 million U.S. bounty on his head, holds much of northern Iraq after ousting government forces from Mosul in June. Human rights organizations have said the group has carried out mass killings of captured Iraqi Shiite troops, beheaded religious minorities and forced women into sexual slavery.
'Talented Leader'
Although his fate remains uncertain, al-Baghdadi's demise would be a "very significant" development that would help weaken Islamic State, said James Jeffrey, a former U.S. ambassador to Iraq during the Obama administration.
"He is the guy who put this whole thing together, who kept the organization alive after 2011" when it had been largely decimated until U.S. troops withdrew, Jeffrey said in an interview. "He's a talented leader and organizer and a religious figure of sorts."
The ouster of al-Baghdadi might not mean the end of the Islamic State movement, which was known as al-Qaeda in Iraq until it was disowned by the central al-Qaeda organization. The death of its previous leader, Abu Musab al-Zarqawi, in a U.S. airstrike in 2006, cleared the way for al-Baghdadi's rise.
New Leaders
"Our experience has always been that new ones come along," said Jeffrey, now a fellow at the Washington Institute for Near East Policy. "But it's a state fueled by recruits and funding. The more things like this happen that make them look less desirable, the better it is for us."
Ali Khedery, who served as a special assistant to five U.S. ambassadors and three heads of U.S. Central Command from 2003 to 2009, said al-Baghdadi's demise may make little difference.
"These transnational jihadi movements fueled by popular insurgencies cannot be destroyed simply by taking down their leader," he said, citing the killings of al-Zarqawi and former al-Qaeda leader Osama bin Laden. "If it were only that simple," said Khedery, now chairman and chief executive of the Dubai-based Dragoman Partners consulting company.
'A Blip'
The impact of an attack on al-Baghdadi may depend on how well Islamic State has groomed new leadership, said Fred Hof, a former special representative on Syria for the State Department who is now at the Atlantic Council in Washington.
"If there is a functioning and competent chain of command, then the death or incapacitation of Baghdadi and other senior leaders could be a blip," Hof said by e-mail. "An important one, but a blip nonetheless."
Coalition airstrikes are part of a U.S.-led effort to halt the advance of the extremists. President Barack Obama has approved almost doubling the number of military advisers, trainers and support personnel in Iraq. There now are 1,400 U.S. troops in Iraq protecting U.S. facilities and assisting the Iraqi military in Baghdad and Kurdish fighters in Erbil in the north.
The U.S. has previously announced airstrikes in Syria aimed at leaders of a separate extremist band, which it calls the Khorasan Group. Months after initial strikes in September, American officials haven't disclosed which, if any, Khorasan leaders were killed in those attacks.
A second strike against Khorasan members was conducted last week. General Lloyd Austin, the head of U.S. Central Command, which oversees the Iraq and Syria operations, said it will take time for the military to assess the impact of the strike.