Best Business Schools 2014: How They Were Ranked
by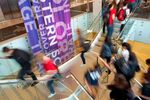 To determine which business schools offer the strongest education and best prepare MBAs for their careers, Bloomberg Businessweek ranked 112 full-time MBA programs on three measures: a survey of student satisfaction (45 percent of the ranking); a survey of employers who hire those graduates (45 percent); and the expertise of each school's faculty, measured by faculty research in esteemed journals (10 percent).
This year, Bloomberg Businessweek ranked 85 U.S. schools and 27 international schools, the largest group since we began ranking MBA programs in 1988. The methodology for ranking schools has evolved over the years, and in 2014 we implemented some small but important changes to each of the three ranking components.
Before it's here, it's on the Bloomberg Terminal.
LEARN MORE