5 Things We Learned About Ben Carson From His Documentary
An hour-long documentary promotes the retired neurosurgeon who is weighing a 2016 White House bid.
By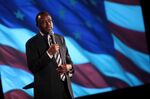 "A Breath of Fresh Air: A New Prescription for America," is the title of an hour-long documentary designed to introduce more Americans to Ben Carson, the retired Maryland neurosurgeon and political newcomer who's weighing a bid for the 2016 Republican presidential nomination.
The documentary aired over the weekend in select markets as Carson, a hit at conservative and Republican forums ever since his attention-grabbing remarks at a 2013 National Prayer Breakfast attended by President Barack Obama, nears a decision on a White House bid. 
Here are five takeaways from the documentary, which was produced by his business manager Armstrong Williams's company. 
Rocky childhood
Carson was born in Detroit in 1951 to a single mother who married at age 13, had a third-grade education, and left her husband after finding out he was a bigamist. A narrator says Carson's mother limited his television viewing after he received failing grades and got into trouble at school. She demanded that Carson and his brother read books and write book reports. He eventually acquired a "voracious appetite for reading" and studied at Yale and the University of Michigan.
No fan of Obamacare

Carson opposes President Barack Obama's health-care overhaul and instead backs free-market approaches including health savings accounts (HSAs), which allow people to use tax-free dollars to pay for health expenses. Under Carson's plan, HSAs could be augmented by $2,000 each year and shifted around among family members depending on need.
"Bring it into the free market; that makes it work much better," Carson says. "It has to incorporate tort reform. You have to have electronic medical records, but I would embed them in a microchip that the patient can keep rather than have them floating in cyberspace, because I think people's medical information is much too private and much too important to be floating around in cyberspace."
"I think that could be done for considerably less money than we're spending, even if the government populates everyone's health savings account," he says.
Republicans have promoted HSAs in their proposals to repeal and replace Obamacare. Critics say that HSAs benefit the affluent.
ALSO ON BLOOMBERG POLITICS: BEN CARSON'S LONGSHOT PRESIDENTIAL BID SUDDENLY LOOKS A LOT MORE REALISTIC
Backs gun rights, but wants to address gun violence
While the documentary is heavy on biography and light on policy, it does touch upon some of his views on gun policy and foreign affairs.
While Carson supports Second Amendment rights of Americans to own firearms, "at the same time, we have a gun violence problem in many parts of America, particularly in some inner-city neighborhoods," a narrator says. "He asks, isn't there a way that sensible people can sit down and talk about how to protect our rights and at the same time protect the lives of innocent people affected by gun violence?' 
Carson also "firmly believes that America has a role on the global stage, particularly in dealing with the plague of radical Islamic extremism," a narrator says.
Ronald Reagan devotee
Before listening to Reagan, "I used to be a rather radical left wing person," Carson says in the documentary. "And I started listening to him, and I started listening to the things he was saying, and they made so much sense. And I actually began to think about the world in a very different way. So he really did play a very significant role in my metamorphosis."
The documentary shows clips from Reagan's breakout political speech in 1964, "A Time for Choosing," delivered on the eve of Republican Barry Goldwater's landslide defeat to President Lyndon B. Johnson. Reagan, a Democrat for most of his adult life, would soon become one of his new party's leading figures.
In the film, Reagan is shown explaining his view that the Founding Fathers "knew that governments don't control things," and adding, "A government can't control the economy without controlling people. And they know when a government sets out to do that, it must use force and coercion to achieve its purpose."
Cuba Gooding Jr. played him in a movie
Carson's autobiography, "Gifted Hands," shares a title with a 2009 TV movie starring Cuba Gooding Jr. as Carson, who was the first surgeon to successfully separate twins joined at the back of the head.