Obama Seeks to Grab Momentum After Election Losses
Mike Dorning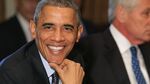 President Barack Obama moved to seize the initiative from Republicans after his party's election losses, drawing a hard line on immigration, choosing a new attorney general and dispatching key aides to say he won't back down from his agenda.
Obama took that message to Republican leaders in a meeting yesterday, where he vowed to press forward with an executive order giving some undocumented immigrants a reprieve from deportation even after House Speaker John Boehner warned it would poison relations.
By the end of the day, Obama also had authorized a near doubling of the U.S. troop presence in Iraq and said he would nominate Loretta Lynch, a Brooklyn federal prosecutor, to be his next attorney general.
It was a series of rapid actions designed to show a White House on the move, undeterred by the Nov. 4 elections, which gave Republicans a majority in the U.S. Senate. The announcements sought to show the president was in command while shifting the conversation in Washington away from Democrats' election losses.
Obama isn't done. He'll be on national television in an interview airing tomorrow on CBS's "Face the Nation" before he arrives in Asia for a week of meetings with foreign leaders.
Events this weekend guarantee that the video images of the president will be of him standing beside his choice to be the first black female attorney general, and representing the U.S. abroad.
Midterm Losses
While former presidents George W. Bush, Bill Clinton and Ronald Reagan all responded to midterm election losses with high-profile firings, Obama's chief of staff, Denis McDonough, said there would be no shake-up.
"I don't see anything like that on the horizon," McDonough said in an interview with Al Hunt on the "Charlie Rose" show, which airs on PBS and Bloomberg Television.
Obama senior adviser Dan Pfeiffer said the president wouldn't scale back his immigration plans, which may result in millions of people getting a reprieve from deportation. Pfeiffer said Obama also wouldn't shrink from using his unilateral authority to move his agenda ahead during his remaining two years in office.
"We're going to do what we think is best for the country," Pfeiffer told reporters and editors yesterday at a Bloomberg Politics breakfast in Washington. "If they have disagreements about the things we do, they have the capacity to legislate."
Lame-Duck Session
Republicans have "a shot at" avoiding an executive action by passing immigration legislation before the end of the year in a lame-duck session, Pfeiffer said. If Congress passes a comprehensive immigration law the president is willing to sign, Obama will "tear up" his unilateral orders, he said.
The president will seek to find areas of agreement with congressional Republicans, Pfeiffer said. Some potential issues he cited are infrastructure, funding for Ebola prevention, financing government operations and writing a new authorization for the U.S. to use military force against Islamic State militants.
If progress can be made on these issues during the lame-duck congressional session that starts next week, "that will send a signal to the country that we can begin working together in a more constructive way than we have in recent years and hopefully build some foundations of trust to do the tougher stuff next year," Pfeiffer said.
The administration considers business taxation to be a potential arena for compromise with Republicans, Pfeiffer said.
'Juggling Swords'
Even so, he said, negotiating a tax deal will be "very hard," describing brokering the differences within and between the two parties as something like "riding a unicycle while juggling swords."
The administration has emphasized a revamp of the business tax system in an attempt to set aside more politically contentious issues over individual taxation.
That approach isn't popular on Capitol Hill. Republicans say both issues should be addressed together, because many businesses pay taxes through their owners' individual tax returns.
Many Democrats don't agree with the administration.
The top tax aides to Senate Majority Leader Harry Reid, Senate Finance Committee Chairman Ron Wyden and Representative Sander Levin all said at a Bloomberg BNA/KPMG panel on Nov. 6 that they prefer doing individual and corporate taxes together, in part because major tax-code changes that don't offer a benefit to individuals can be hard to sell to the public.