Is Harry Reid Feuding with the White House?
The Senate leader's top aide breached Washington tradition and blasted President Obama over the midterms. Now, the White House is hitting back.
By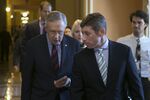 One of most intriguing storylines to emerge in messy aftermath of the midterm elections is the level of animosity between the White House and the Democratic Senate. Though much Internet ink has been spilled about the dysfunctional relationship between Obama and his Democratic congressional colleagues, those tensions seem to be at an all-time high as Democrats try to sort through the reasons behind their electoral shellacking.
The best tidbit to emerge recently comes from a report in the Washington Post on Nov. 5 where soon-to-be former Senate Majority Leader Harry Reid's top aide, David Krone, publicly slammed the White House for what he saw as the president's failure to adequately fundraise for the midterm elections:
At a March 4 Oval Office meeting, Senate Majority Leader Harry M. Reid (D-Nev.) and other Senate leaders pleaded with Obama to transfer millions in party funds and to also help raise money for an outside group. "We were never going to get on the same page," said David Krone, Reid's chief of staff. "We were beating our heads against the wall."
He continued:
"The president's approval rating is barely 40 percent," Krone said. "What else more is there to say? . . . He wasn't going to play well in North Carolina or Iowa or New Hampshire. I'm sorry. It doesn't mean that the message was bad, but sometimes the messenger isn't good."
"The feeling about Krone in the West Wing was mutual," the Post reported, noting that Krone, the husband of former Obama aide Alyssa Mastromonaco, "was seen as an antagonist" by those in the president's orbit.
His remarks were a blatant—and rather bold—breach of typical Washington restraint, where political hands do their complaining anonymously, often as "senior aides." And Krone's chutzpah, in a city known for caution, hardly went unnoticed. 
When White House reporters asked spokesman Josh Earnest about the relationship in a Thursday briefing, he cast Krone as a rogue aide. "Senator Obama, when he served in the United States Senate, and Senator Reid struck up a genuine friendship when the two men served together in the United States Senate, and that relationship has only been strengthened during the president's time in the White House," he said.
And when Obama adviser Dan Pfeiffer came to Bloomberg News on Friday for an editorial breakfast meeting, the topic came up once again. "Senator Reid, in addition to a good relationship with the president, has a good relationship with a lot of people in the White House that he deals with pretty directly," he said. "You have to ask David Krone who he was speaking for when he spoke. You know, I think we feel good about our relationship with Senator Reid."
But Krone's interview didn't exactly take place in the Deep Throat garage—according to the story, Krone "sat at a mahogany conference table in the majority leader's stately suite just off the Senate floor and shared with Washington Post reporters his notes of White House meetings"—and other Reid staffers didn't shy away from distributing the story on social media.
Most importantly, Krone isn't some second-tier Reid staffer with little connection to the senator. The chief of staff is one of the leader's closest and most loyal aides, helping guide him through his rocky 2010 reelection campaign and his role leading the Senate since then.
The details of Krone's story are a bit complicated, but the sentiments certainly aren't: Congressional Democrats, who've long felt unappreciated by the Obama White House, know the president is weakened by the midterm losses. They're trying to deflect the blame—and seizing on the chance to finally take their private gripes public. That means the White House can probably look forward to a lot more stories like this one, unless they can find away to smooth relations among their own on Capitol Hill. But with just two years left, they may have already lost their chance. 
Enjoy this article? Don't forget to follow @BPolitics on Twitter and like Bloomberg Politics on Facebook