Democratic Party Has a Problem, Wasserman Schultz Says
The Democratic National Committee chairwoman announces a review of midterm losses amid a surge of intra-party tension.
By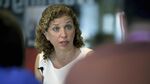 Democratic National Committee Chairwoman Debbie Wasserman Schultz on Saturday acknowledged her party's losses in the past two midterm elections and said she would initiate "a top-to-bottom assessment of how we can do better."
"The American people believe in the causes we're fighting for," she said in a video released by the DNC. "But the electoral success we have when our presidential nominee is able to make a case to the country as a whole doesn't translate in other elections. That's why we lost in 2010, and it's why we lost on Tuesday."
The Florida congresswoman offered few other details on what mistakes she believes led to the Democrats losing control of the Senate and suffering a net loss of at least 12 House seats, but said the review will be conducted with future midterm elections, rather than the 2016 presidential election, in mind. "We will be talking more about [2016] in the coming months," Wasserman Schultz said, "but finding real and lasting solutions to our midterm election issues is critical for the success of the policies we care about and the long-term strength of our party."
The effort is reminiscent of the Republican National Committee's review after Mitt Romney lost the 2012 presidential race—a project grimly called an "autopsy"—and comes amid a surge of intra-party tension that simmered even before Tuesday's losses (with Wasserman Schultz finding herself a target at times). 
She said she will soon appoint "key party stakeholders and experts" to a review committee, with a report due at the DNC's winter meeting in February.