Kuroda's Stimulus Makes Won a Loser, Rupee a Winner
Kyoungwha Kim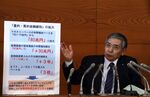 Bank of Japan Governor Haruhiko Kuroda's expanded stimulus is highlighting the split in Asia's foreign-exchange market.
On one side are South Korea's won and Taiwan's dollar, which ING Groep NV and Westpac Banking Corp. say will weaken as policy makers look to intervene to offset the impact of the falling yen, a result of Kuroda's policies. On the other are Indonesia's rupiah and India's rupee, which they see gaining as investors flee Japan in search of higher yields.
The divergence follows the BOJ's decision on Oct. 31 to lift the annual target for enlarging Japan's monetary base to 80 trillion yen ($697 billion), from 60 to 70 trillion yen. Korea competes with Japan to export electronics, ships and cars, making the won most exposed to Kuroda's policy. Taiwan is home to the world's biggest contract chipmakers and producers of notebook computers.
"The won is most vulnerable because its manufacturing sector matches Japan's so closely," Tim Condon, ING's Singapore-based head of Asia research, said yesterday by phone. "After Korea comes Taiwan for the same reason."
After the yen, the won posted the biggest jump in three-month implied volatility among 11 Asian peers over the past five days, data compiled by Bloomberg show. Taiwan's climbed to a seven-month high, while the rupee and rupiah were little changed.
'Intervention Likely'
The yen had Asia's biggest decline versus the U.S. dollar this year, with its 8.2 percent slide followed by drops of more than 2 percent for the won and Taiwan and Singapore dollars. The rupee was the only gainer, climbing less than 1 percent, while the rupiah was little changed.
The weaker yen threatens to make exporters such as Samsung Electronics Co. and HTC Corp. less competitive compared with their Japanese rivals, stoking speculation Korea and Taiwan will buy foreign currency to depress their exchange rates. The won faces "the clearest headwinds" from the yen with Taiwan's local dollar also coming under pressure, according to a report from Goldman Sachs Group Inc. yesterday. The bank forecast the won will weaken 4.1 percent to 1,140 per dollar in a year.
"The yen's weakness is certainly a risk," Jonathan Cavenagh, a strategist at Westpac in Singapore, said yesterday by e-mail. "The yen's move threatens competitiveness in these two economies and clouds the profit outlook. Intervention is likely."
New Leaders
The Bank of Korea said in a Nov. 3 statement it will monitor the impact of the weak yen on exports and financial stability. Harry Yen, deputy director-general of foreign exchange at Taiwan's central bank, said in a phone interview yesterday that policy makers will curb excessive volatility.
The yen weakened to 9.3933 won on Nov. 3, the lowest level since August 2008, and reached a seven-year low of 3.773 per Taiwan dollar today. The won slid yesterday to a 14-month low of 1,096.88 versus the greenback, and was at 1,093.43 today. Taiwan's dollar dropped to 30.716 today, the lowest since 2010.
While any gains in the Korean and Taiwanese currencies may be stymied by central-bank intervention, the rupee and rupiah may have more scope to advance. India and Indonesia's new leaders, Prime Minister Narendra Modi and President Joko Widodo, are modernizing their economies and foreign investment is pouring in.
Overseas investors placed a net $36.8 billion in Indian bonds and stocks in 2014, the most in four years, while Indonesian assets lured $26 billion of inflows, the most since the nation's exchange started tracking the data in 2010.
Bond Yields
Investors are attracted by India and Indonesia having the highest bond yields among investment-grade Asian sovereigns. While inflows have driven the rates to the lowest in at least six months, their 10-year securities both still pay more than 8 percent, compared with about 2.5 percent for Korea and the U.S. and less than 0.5 percent for Japan.
The economies of India and Indonesia will both grow about 5.5 percent next year, while Taiwan, Korea and Singapore will expand less than 4 percent, economists surveyed by Bloomberg predict. South Korea's record $7.5 billion trade surplus in October reflected a slowdown in domestic demand and drop in imports.
Australia & New Zealand Banking Group Ltd. predicts India's rupee will trade at 61.8 per dollar by the end of March, little changed from where it is now. The median prediction of 30 strategists surveyed by Bloomberg puts it at 61.5. ANZ also sees the rupiah at 12,150 per dollar, compared with 12,178 today.
"New government, reform: these are the India and Indonesia stories," Irene Cheung, a strategist at the Australian bank in Singapore, said Nov. 4 by phone.
Before it's here, it's on the Bloomberg Terminal.
LEARN MORE