pursuits
A-Rod Is a Washed-Up Villain, and the Yankees Should Definitely Keep Him
By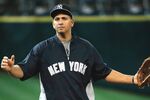 Alex Rodriguez is back. The New York Yankees third baseman has served his season-long suspension for performance-enhancing drug use and attempted coverup. Now he's back on the covers of New York tabloids, too, thanks to reports that he admitted his steroid use to the U.S. Drug Enforcement Administration. This latest news brings more information about A-Rod's urination habits than most fans require.
The return to public attention has brought out a chorus of calls for the Yankees to find a way to dump him before he does any more to "besmirch and embarrass" the team. Standing in the way is the small matter of Rodriguez's contract. The Yankees owe him $21 million for the coming season and a total of $61 million over the next three seasons to complete the 10-year, $275 million deal he signed in 2007. The contract hasn't aged well: A-Rod's 2015 salary is $1 million less than Detroit Tigers first baseman Miguel Cabrera, who's seven years younger and roughly seven times as productive.
As with all Major League Baseball contracts, the money is guaranteed. The best play for the Yankees is probably to have Rodriguez in the lineup come April. That's the advice from Vince Gennaro, president of the Society for American Baseball Research (SABR) and author of Diamond Dollars: The Economics of Winning in Baseball.
The first question is whether Rodriguez, who will turn 40 next season and hasn't played competitive baseball for more than a year, can still hold down a spot. "It's so difficult to gauge," Gennaro says. "He's far from his peak, but he may still be a significant contributor because his peak was so high." Gennaro expects the Yankees will try to re-sign Chase Headley as the everyday third baseman and slot A-Rod in as the designated hitter. That likely means getting expensive, sub-par production from the DH spot in the highly competitive American League East division. Back in 2009, long before the suspension became a factor, Nate Silver projected Rodriguez to hit 12 home runs in 2015.
Still, says Gennaro, that beats the other options on offer. The Yankees could try to void A-Rod's contract based on "standards of good citizenship and good sportsmanship," but such a gambit would face long odds given the history of failed attempts to cancel deals. "Unless you knew for sure that that was a lock-solid outcome, you can't go down that path, because you create this tremendous distraction and alienation," says Gennaro.
There's also the idea of just paying A-Rod to stay away. To do so would be to overlook the real value of his notoriety. With Derek Jeter gone, the Yankees are short on household names. "Let's not ignore the fact that he will be a lightning rod in terms of drawing fans," Gennaro says of A-Rod. "He will be the biggest name on the Yankees regardless of his performance. If he can earn his way into the lineup, he will attract people in the stands, and he will attract viewers on YES Network."
While the Yankees are not about to build a marketing strategy around the league's leading villain, they can still reap the benefits. "I do not put him on the cover of the program," says Gennaro, "but I wouldn't hide him. I would treat him like an everyday regular on the team." It would be the first time in his career that A-Rod came to work as an everyday regular with modest expectations. And that might be the best thing for him.
"I have the sense that he's going to be the best teammate that he's ever been," Gennaro says. "Maybe I'm looking at this through rose-colored glasses, but I see him poised for redemption here."
Now batting as the designated hitter: a 40-year-old slugger trying to live down his past and be an average hitter.
Before it's here, it's on the Bloomberg Terminal.
LEARN MORE