Payrolls in U.S. Rose 214,000 as Unemployment Drops to 5.8%
Michelle Jamrisko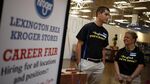 The American labor market is powering past a global slowdown as unemployment decreased to a six-year low in October and 214,000 workers were added to payrolls.
The jobless rate fell to 5.8 percent, the lowest since July 2008, from 5.9 percent in September, Labor Department figures showed today in Washington. The increase in hiring last month followed a 256,000 advance that was larger than first estimated as job gains head for their best showing in 15 years.
The report probably keeps Federal Reserve policy makers on track to raise interest rates in 2015 even as wages continued to show little momentum. Disappointing average hourly earnings help explain the voter discontent that gave the Republican party control of the Senate in this week's election.
"The labor market is firming," Federal Reserve Bank of Chicago President Charles Evans said in a speech today. "Labor-market slack is definitely diminishing." Evans has often warned of the dangers of raising interest rates too quickly.
Forecasts show central bankers view unemployment in the 5.2 percent to 5.5 percent range as consistent with full employment. The rate has dropped 1.4 percentage points since October 2013, matching the biggest 12-month retreat since 1984.
Evans said the drop in joblessness was "good news," even as "we've got some distance to go."
Stocks held at all-time highs and Treasury securities climbed. The Standard & Poor's 500 Index rose less than 0.1 percent to 2,031.92 at the close in New York. The yield on the benchmark 10-year note, which moves inversely to prices, fell to 2.30 percent from 2.39 percent late yesterday.
Median Forecast
The October gain in payrolls fell short of the 235,000 median forecast of 100 economists surveyed by Bloomberg. Estimates ranged from increases of 140,000 to 314,000. Revisions to prior reports added 31,000 jobs to the previous two months' job count.
Employment has climbed by at least 200,000 for nine consecutive months. The last time that's happened was a stretch that ended in March 1995. At this year's pace, the increase in payrolls for 2014 would be the biggest since 1999.
Hiring gains were broad-based, with factories, construction companies and retailers among those adding staff.
The one soft spot in the employment picture remains the inability of wages to show bigger increases. Average hourly earnings for all workers rose 0.1 percent in October from the prior month, and were up 2 percent since October 2013, less than the 2.1 percent median forecast. By this measure pay climbed 3.1 percent in the year before the recession began in December 2007.
Wages Disappoint
"We have sustained improvement in the labor market, but what's frustrating is that it's not yet generating wage growth," said Michelle Meyer, senior U.S. economist at Bank of America Corp. in New York.
Limited wage gains partly explain Americans' dim perceptions of the economy, which helped Republicans capture control of the Senate from Democrats and solidify their majority in the U.S. House during the midterm elections this week. The results ensured that the GOP will control both chambers of Congress for the remainder of President Barack Obama's term.
When voters talk about the health of the economy, "they're talking about their paychecks and not their stock portfolios," said Jared Bernstein, a senior fellow at the Center on Budget and Policy Priorities, a Washington-based research group. Economic growth, "while solid and reliable at this point, is not showing up in median pay in the way it needs to for people to feel reconnected to the overall improvement," said Bernstein, a former chief economic adviser to Vice President Joe Biden.
New Job
Zara Rahim, 24, is among those seeing an improvement. She just landed a communications job at a technology startup company in San Francisco and will move there after working in Washington for a digital strategy firm the last two years.
"I think things have gotten better," she said. "A lot of Americans are disappointed with how slowly it's going, but over time it'll get better."
The underemployment rate -- which includes part-time workers who'd prefer a full-time position and people who want to work but have given up looking -- declined to 11.5 percent, the lowest since September 2008, from 11.8 percent.
Fed officials cited further labor market progress last week, when they ended monthly asset purchases that bloated the central bank's balance sheet to more than $4 trillion in a bid to stimulate growth. The policy making Federal Open Market Committee referenced "solid job gains and a lower unemployment rate."
Global Efforts
Unlike the U.S., central bankers in Europe and Japan are battling to shore up growth. Mario Draghi yesterday sought to restore the faith of investors in the European Central Bank's ability to revive its ailing economy. He said the ECB will buy assets for at least two years and study further stimulus. His comments came days after the Bank of Japan extended its own stimulus campaign.
Gains in employment in the U.S., and more recently a drop in prices at the gas pump, are helping to bolster consumer sentiment and underpin the household purchases that make up about 70 percent of the economy. Ford Motor Co., Toyota Motor Corp., Fiat Chrysler Automobiles NV and Nissan Motor Co. reported October sales that exceeded analysts' estimates as buyers emboldened by falling gasoline prices flocked to sport-utility vehicles.
"The U.S. economy has steadily improved all year," Kurt McNeil, U.S. sales chief at General Motors Co., said in a Nov. 3 statement. "Now we are poised for a stronger expansion backed by an improved job market, higher consumer confidence and lower fuel prices."
Population Working
Today's employment report showed the share of the population with jobs rose to 59.2 percent in October, the highest since July 2009, from 59 percent the prior month.
"The U.S. is on a roll, the momentum is pretty strong," said Nariman Behravesh, chief economist of IHS Inc. in Lexington, Massachusetts, and the second-best forecaster of payrolls over the past two years, according to data compiled by Bloomberg.