Miliband Allies Say Labour Must Pull Together or Lose
Thomas Penny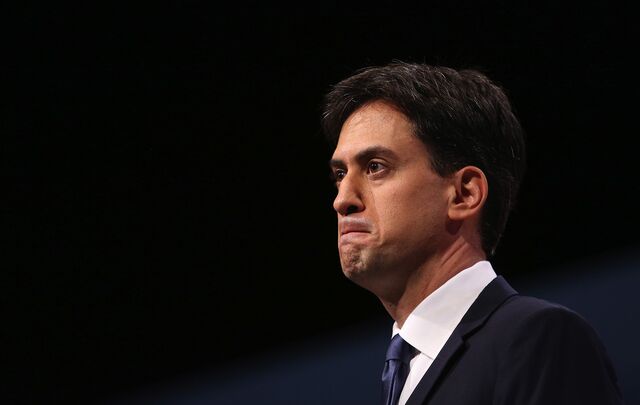 The opposition Labour Party must "pull together" or risk losing next year's general election, allies of leader Ed Miliband said in response to U.K. media reports of a bid to oust him before the vote in May.
Labour's election coordinator, Douglas Alexander, called for unity, while the offices of health spokesman Andy Burnham and home affairs spokeswoman Yvette Cooper told the Press Association newswire that reports in the Times newspaper of a pact to replace Miliband were untrue.
"Every one of us in the Labour Party has to reflect the reality that divided parties lose elections," Alexander said on BBC Television's "Question Time" program last night. "We've got to pull together to offer credible change in these tough economic times, and that's what we plan to do."
Speculation about Miliband's future as leader even as Labour leads Prime Minister David Cameron's Conservatives in the polls underscores the volatile nature of U.K. politics six months before the May 7 election. Cameron is also under pressure within his own party amid an electoral threat by the anti-immigration U.K. Independence Party, which wants to pull out of the European Union.
The BBC and the Times both reported yesterday that unnamed lawmakers had written to David Watts, the chairman of the body that brings together Labour lawmakers, calling for the leader to go for the good of the party. Miliband consistently trails Cameron as the person best suited to be premier.
Miliband described the reports as "nonsense" yesterday. "Our focus is on the country and is going to remain on the country," he told BBC TV.
No Mechanism
There is no mechanism in Labour rules for removing Miliband as leader before the election. When the party was in government under Gordon Brown, Miliband's predecessor, from 2007 to 2010, there were a series of attempts by senior figures to remove the premier and none succeeded.
"Some of Labour's problems are due to Miliband but its deeper troubles won't be solved by changing leader: it hasn't a coherent identity," Steven Fielding, a professor of politics at the University of Nottingham, said in an interview. "Because they avoided a civil war after 2010, the debate about what the party is for never came to a point of resolution. The basic problem for Miliband is that when he's tried the vision thing he couldn't sell it. But there's no evidence Cooper or Burnham can either."
Three out of the past four daily YouGov Plc polls have shown Labour just one percentage point ahead of the Tories, across the U.K., while surveys in Scotland, one of Labour's political heartlands, late last month suggested it might lose almost all its House of Commons seats there to the Scottish National Party.
"If there are Labour colleagues who are sitting in Westminster whingeing, they need to get off their backsides, get out into the real world where real people live and talk to them about the real problems they are suffering," former Culture Secretary Ben Bradshaw told BBC Radio 4.
Before it's here, it's on the Bloomberg Terminal.
LEARN MORE