Jobs-Day Guide: U.S. Payrolls, Hourly Earnings, Participation
Michelle Jamrisko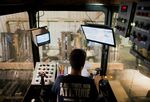 Here's what to look for when the Labor Department releases the October U.S. employment report today at 8:30 a.m. in Washington:
-- Payrolls, jobless rate: Employers added a net 235,000 workers to payrolls in October after 248,000 a month earlier, according to the Bloomberg survey median. The gain would keep the labor market on course for its best annual performance since 1999, when an average 265,000 Americans found jobs every month. The unemployment rate is forecast to hold at 5.9 percent in October, matching the lowest since July 2008.
-- "Businesses are seeing, at least domestically within the U.S., a slightly firmer demand backdrop, so we're getting a bit more on the hiring front," said Michael Gapen, senior U.S. economist at Barclays Capital Inc. in New York, the top forecasting firm for payrolls over the past two years, according to data compiled by Bloomberg. Barclays economists project a 225,000 increase in October payrolls. The fading of government spending cuts this year, "a gradual healing of the underlying economy" and stronger consumer balance sheets make for a brighter employment picture, Gapen said.
-- Goldman Sachs & Co.'s forecast, which matches the Bloomberg survey median, represents a pickup from the three-month average of 224,000 as recent data point to a "solid report," economist Kris Dawsey wrote in a research note. Jobless claims are close to the lowest level since 2000, service sector employment is at a nine-year high and private hiring as measured by the ADP Research Institute has picked up, he said.
Influence on Fed
-- What it means for Federal Reserve policy makers and the timing of an increase in interest rates: "Anything over 200,000 is going to be a good number, will keep the unemployment rate solidly in a downward trend and keeps everything on track for a tightening sometime next year, which we think comes in June," said Barclays' Gapen, a former staff member at the Fed board. Job growth is poised to sustain momentum for another four to six quarters as Fed interest rate increases historically haven't impeded hiring, he said.
Participation Rate
-- Participation rate: The number of Americans who are employed or looking for a job as a share of the working-age population has failed to pick up from its lowest level in decades. The rate slid again in September, to 62.7 percent, the weakest level since early 1978.
-- "The participation rate decline has exaggerated the labor market improvement, so the Fed doesn't want to look only at the unemployment rate," said David Sloan, senior economist at 4Cast Inc. in New York. "But the Fed's made it clear that it can't dismiss the decline in unemployment."
-- "A sustained rise in the participation rate is unlikely before labor markets tighten much further," chief U.S. economist Michael Feroli and analyst Jesse Edgerton at JPMorgan Chase & Co. wrote in an Oct. 28 research note. That's because the largest gaps in labor force participation are found among older Americans who probably won't return even as job prospects improve. Those are among the demographic issues that are responsible for 2.2 percentage points of the 2.8 percentage-point decline in the rate since 2007, they wrote.
Wages, Hours
-- Wage growth, hours: While hiring has picked up this year, wage growth has been slower to accelerate. Average hourly earnings for all workers, which include supervisors, are forecast to rise 2.1 percent in October from a year ago, in line with the average since the start of the expansion. For non-supervisory workers alone, gains in hourly pay have also averaged 2.1 percent since June 2009, less than the 3.2 percent in the four years before the last recession began at the end of 2007. Employees are slowly beginning to put in more hours. The average workweek in October probably held at 34.6 hours, the most since May 2008. During the depths of the recession in 2009, workers were putting in 33.8 hours a week on average.
-- While voters during this week's midterm elections cited the economy as their biggest concern when they gave Republicans control of the Senate, there has been a pickup in take-home pay when the increase in hours worked is taken into account, said Tom Porcelli, chief U.S. economist at RBC Capital Markets LLC in New York.
-- The Labor Department's lesser-cited index of total weekly payrolls, which takes into account weekly hours, hourly earnings and employment of production and non-supervisory workers, is the "most important number in any monthly payroll report," he said. It rose 5 percent over the past 12 months, "and that's the juice" for gains in consumer spending at a time when credit is hard to get, said Porcelli.
Long-Term Jobless
-- Long-term unemployment: One of the weakest indicators on Fed Chair Janet Yellen's labor market dashboard remains the portion of jobless Americans who have been out of work for 27 weeks or longer. That share has become a larger focus this year for officials at the Fed, White House and Congress. At 31.9 percent in September, it is still twice its historical average even though it has been declining since early 2012.
Industry Breakdown
-- Industry breakdown: Faster job growth in manufacturing and construction, which typically pay higher wages, would help provide a bigger boost to consumer spending and the economy. Factories may be more deliberate in their hiring as the year draws to a close, partly due to slowing global markets.
-- Manufacturing, construction and the oil and gas extraction industries will be important to watch, said Patrick O'Keefe, director of economic research at Roseland, New Jersey-based CohnReznick LLP and a former Labor Department deputy assistant secretary. "Construction and manufacturing between them are still 3 million jobs lower than where they were pre-recession, and it's been the private-services sector where we've seen the job recovery concentrated."
-- "Manufacturers are seeing demand increase, especially domestically, and that's helping to fuel a lot of optimism in terms of both investment and hiring," said Chad Moutray, chief economist at the National Association of Manufacturers. "If there's a soft spot in the economy, it's the global economy, and exports tend to be one area where there's still a lot of concern."
Before it's here, it's on the Bloomberg Terminal.
LEARN MORE