Japan Denies Report That North Korean Kidnap Victim Died in 1994
Andy Sharp and Sam Kim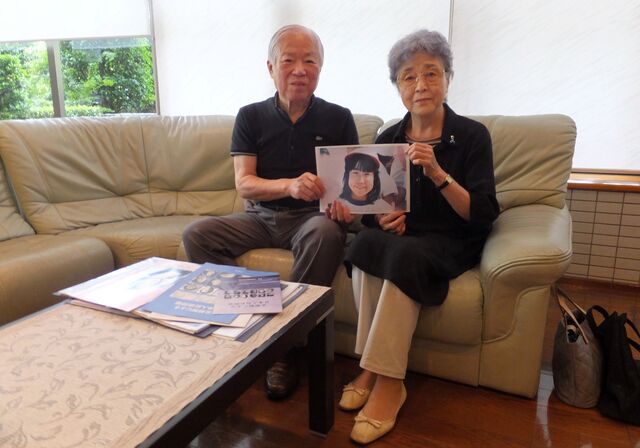 Japan denied a report providing evidence that a Japanese woman abducted by North Korea at the age of 13, who became a symbol of a four-decade campaign to recover kidnapping victims, died in 1994 of an overdose.
Chief Cabinet Secretary Yoshihide Suga said there was "absolutely no credibility" to a report in South Korean newspaper Dong-A confirming Megumi Yokota's death at a North Korean psychiatric hospital 20 years ago. The paper cited a report by South Korean activist Choi Sung Yong and Japanese investigators.
"I wanted to let the world know that Megumi died a tragic death," Choi, who represents an association of South Koreans whose family members were kidnapped by North Korea, said in a telephone interview. "It's unacceptable how they let her die."
Yokota is the youngest of 17 people listed by the Japanese government as being kidnapped in the 1970s and 1980s, while citizens' groups have identified hundreds more who may have been abducted. Prime Minister Shinzo Abe's efforts to force North Korea to reveal the fate of the victims has been a centerpiece of his political career, and the issue remains an emotional one in Japan.
"There's much speculation about the survivors, but the government is doing its utmost on the assumption that all the abduction victims are alive," Suga said at a press conference today in Tokyo.
Choi said he worked with three Japanese investigators on the report and its findings are in line with information that North Korea gave on Megumi in 2002. The government of Kim Jong Un earlier this year agreed to a new investigation into the fate of the victims, though a Japanese delegation to Pyongyang last week didn't receive any new information on the fate of the abductees from North Korean officials investigating the issue.
Buried on Mountain
Megumi Yokota was buried with other bodies on a mountain near a psychiatric hospital in North Korea where she was undergoing treatment, Choi said. He based his findings on interviews with two officials from the hospital where Megumi was treated. The interviews were conducted after the two defected from North Korea, he said.
In an interview in July, Megumi's mother Sakie said the latest North Korean probe into the abductees and a more active stance by Abe's government on the issue offered grounds for hope. "We are all looking at this and beginning to think it may lead to some progress," Sakie said.
The report, if true, may be a setback for Abe, whose government maintains that some victims are still alive. Abe managed to convince North Korea to carry out the new probe in July in return for easing some sanctions on the isolated nation.
Five Returned
North Korea said in 2002 it had abducted 13 Japanese to help train spies and returned five of them, saying the others were dead, one of whom was Megumi. Her family was unconvinced by North Korea's assertion that Megumi committed suicide at the age of 28 or 29, citing anomalies in the documents shown as proof of death, and a photograph provided by Megumi's daughter that an analyst said put her at about 40.
One evening in November 1977, Megumi, then 13, failed to return to her home in the port city of Niigata after badminton practice. Her mother, Sakie, went to the school to look for her, only to find training had ended and her daughter wasn't around.
Police combed nearby empty lots and pine woods along the coast of the Japan Sea, and a sniffer dog found a trail ending a few minutes from the family home.
Sakie and her husband Shigeru had no success with a media appeal to publicize the case. It was 20 years before they heard via a lawmaker that Megumi had been spotted in North Korea, according to a book Sakie published in 2012.
In "Megumi and Me for 35 Years," Sakie describes how the teen's abduction overshadowed the couple's lives and those of their twin sons. Shigeru and Sakie have given more than 1,400 speeches around the country and met at least 10 prime ministers to maintain awareness, and their energy is flagging, Sakie said on July 16.
"It's been a terrible life," she said. "Something happened that no one could have imagined. So many people disappeared like smoke."
Before it's here, it's on the Bloomberg Terminal.
LEARN MORE