Catalans Vote on Secession, Closing Ranks Against Rajoy
Esteban Duarte and Rodrigo Orihuela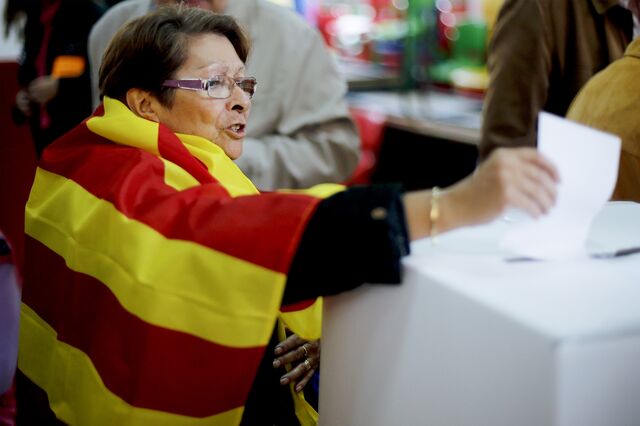 Catalans went to vote today in an independence ballot ruled illegal by Spain, as regional officials closed ranks to shield those organizing the disputed poll from punishment.
More than 1,000 polling stations were operating and 1.14 million people had voted by 1 p.m. in Barcelona, according to the regional administration. In a new act of defiance, the Catalan government said its police force would not identify those working in polling stations, after Spain's general prosecutor ordered them to report public buildings being used for the poll and those responsible for their use.
"If they want to identify who is responsible for opening the schools, they can look at me," Catalan President Artur Mas told a news conference after casting his vote. "I'm responsible. My government and me."
The vote marks the highest point so far in four-year resurgence of separatist sentiment. While the result, expected tonight, won't have any legal validity, Mas aims to use it to force Prime Minister Mariano Rajoy into negotiating a path to independence.
The 1.14 million turnout at 1 p.m. compares with a total of 2.53 million who voted in European elections in May out of an electorate of 5.49 million, according to Interior Ministry data. By 2 p.m. on the day of the European elections, 1.34 million had voted.
Establishment Crisis
"Whether there is independence or not, it is important to have a vote, to have the chance to say 'yes' or 'no,'" said Jorge Vivanco, a retiree waiting at the Pia School in the upscale Barcelona neighborhood of San Gervasi, where Mas voted. "We have never had the opportunity before."
The ballot takes place as the Spanish political establishment faces its biggest crisis since the return of democracy 36 years ago. With unemployment at 24 percent, the second-highest in Europe after Greece, and corruption allegations eroding the government's moral authority, the anti-establishment Podemos party surged into the lead in two opinion polls in the past week.
Court Battles
Today's ballot is another blow to Rajoy, who has insisted for months that the legal hurdles he's thrown up would prevent it.
"While I'm prime minister, nobody will break up Spain," Rajoy said in a speech to party activists in Caceres, western Spain, yesterday. "This isn't a referendum or a consultation or anything like it."
Rajoy himself set in train the course of events leading to today's votes when he won an appeal to the Constitutional Court as opposition leader in 2010, rolling back powers that had been ceded to the Catalan government. Since then, support for independence has gone from being a fringe issue to commanding almost 50 percent support in the most recent polls.
Rajoy has made no comment on the vote today and calls to the prosecutor's office went unanswered.
"I used to think Spain could be a country like Switzerland where multiple nationalities are protected," said Victor Acedo, a 38-year-old linguistics researcher, who traveled from Cambridge in England to vote today. "I realize now that's impossible."
Prosecutor's Order
Today, the Catalans' challenge to the central government's authority extended to the region's autonomous police force, the Mossos d'Esquadra. They were ordered last night by Spain's chief public prosecutor, Eduardo Torres-Dulce, to find out who was responsible for opening up the public buildings used for polling. The Mossos won't be identifying people overseeing the voting, said a spokesman for the Catalan government, who declined to be named citing usual government policy.
Mossos in Barcelona said their commanding officers had made no reference to the prosecutor's order in the morning briefing. A press officer for the regional police corps declined to comment when contacted by Bloomberg News. Spain has two nationwide police forces, the Guardia Civil and the National Police.
"The process is running itself," said Joan Ricard, a teacher at Sant Medir school in Barcelona where he was supervising voting as a volunteer. "I'm just the volunteer who is in charge of opening and closing the door." He declined to say who handed him the keys.
40,000 Volunteers
Outside the six-storey Pia School building in San Gervasi, where Mas voted, separatists gathered signatures on a petition asking the European Union to back their demands for an officially sanctioned referendum.
Inside, volunteers were registering voters at one table and supervising ballot boxes down a corridor. More than 40,000 volunteers have been enlisted to man ballot boxes in more than 900 towns across the region.
Mas was received by a minute-long round of applause when he came to cast his vote, chants of "President, president" in Catalan, and honking horns by about hundred bystanders.
Catalonia is home to 7.4 million people in the northeast corner of the Iberian peninsula. It has the largest economy of Spain's 17 autonomous regions: an annual output of 193 billion euros. That's about the same as Finland or Scotland, where in September voters opted to remain part of the U.K. in an independence referendum.
Diplocat, a public diplomacy association funded by the government of Catalonia and private companies, invited a group of eight European lawmakers to observe the vote. Ian Duncan, a member of the European Parliament for the U.K. Conservative Party, which supported Scotland remaining part of the U.K. in that vote, is its spokesman. Duncan asked to meet the Spanish representative before the European Union ahead of coming to Barcelona but didn't get any answer, he said.
Before it's here, it's on the Bloomberg Terminal.
LEARN MORE