Pakistan's Sharif Seeks Energy Deals During China Visit
Faseeh Mangi and Kamran Haider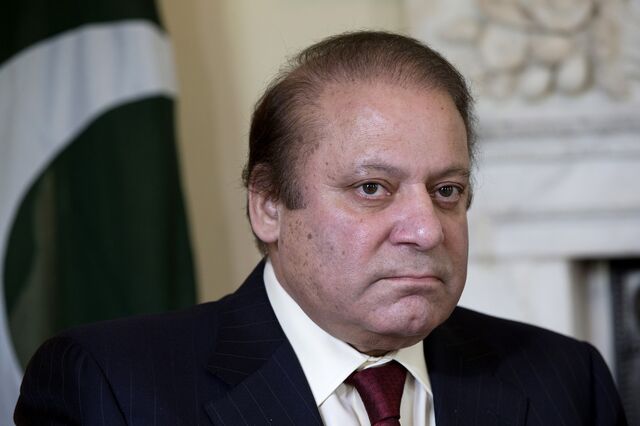 Pakistan Prime Minister Nawaz Sharif was scheduled to arrive in China today looking to secure delayed energy deals to help boost his nation's economy.
More than two dozen agreements will be signed with China during the two-day trip, Musadiq Malik, Sharif's chief spokesman, said by phone today. They will mostly be related to power generation and development in the southwestern city of Gwadar, where China is helping to build a port.
Chinese President Xi Jinping postponed a visit to Pakistan in September amid political demonstrations in Islamabad led by former cricket star Imran Khan against Sharif for allegedly rigging last year's elections. Xi had been expected to sign $34 billion of investment deals during that trip.
"We are going to sign many agreements which we couldn't because of the postponement of the Chinese president's visit," Malik said today.
Chinese help is a key part of Sharif's plan for spurring the economy of South Asia's second-biggest economy. An International Monetary Fund loan is another element. Pakistan aims to raise its investment-to-GDP ratio to 20 percent in three years from 12.6 percent in year ending June 2013.
"There is only one investor ready to invest freely with open hands in Pakistan: China," said Saad Khan, an economist at Karachi-based brokerage Arif Habib Ltd. "Sharif going back to China means investors are willing to invest, and something is happening again in the energy sector, including coal power projects."
Largest Partner
China has been Pakistan's largest trade partner for four consecutive years with $15 billion in 2013, surpassing the U.S. and the United Arab Emirates, according to data compiled by Bloomberg. It also became Pakistan's second-largest export destination in 2011, followed by the U.S.
Sharif announced plans to construct a civil nuclear power plant with China's help in November last year to help meet the nation's power demand. He is visiting before the summit of leaders of the Asia-Pacific Economic Cooperation forum. Pakistan isn't a member of APEC.
Power outages last as long as 18 hours a day in some areas. Blackouts have sparked violent street protests, shut factories in the past and were a key reason for the defeat of former president Asif Ali Zardari's party in 2013.
Sharif's first overseas trip was to China after being elected prime minister in May last year.
IMF Loan
In its July review, the IMF said Pakistan's economy was showing signs of improvement and raised its growth forecast to 4 percent for the 2014-2015 fiscal year, 0.3 percentage point higher than its initial estimate. The IMF's executive board will meet in early December and may make available two tranches totaling approximately $1.1 billion.
Sharif has pledged to revive Pakistan's economy by attracting investment to energy and infrastructure development.
Foreign direct investment into Pakistan fell 27 percent to $169.5 million for three months ended September, according central bank data.
Sharif's visit is coming a week after newly-elected Afghan President Ashraf Ghani met Chinese leaders in Beijing. China is concerned with militancy in its western region, which Beijing has said has links to militants based in regions on the border between Afghanistan and Pakistan. Chinese leaders have said the deadly attack on a train station in Yunnan province was masterminded by militants in Pakistan.
"Relations are great, but now there seems to be some difference in regional stance," Rashid Ahmed Khan, professor of international relations at University of Sargodha said by phone. "They don't want Pakistan to pursue a confrontational policy with India and interfere in Afghanistan."
Before it's here, it's on the Bloomberg Terminal.
LEARN MORE