Migrant Kids Are Still Waiting for Answers
Migrant kids in the U.S. may not know for years whether they can stay
By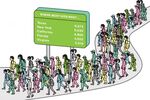 Brian Reyes is 11 years old. In April his mother, Maria, pulled him out of school in Apopa, in central El Salvador, and told him they were leaving for California, where her sisters have lived for the past decade. Maria's brother had been killed by gang members, and when they began to coerce Brian to join, she'd had enough. Maria paid coyotes—as people smugglers are called—$4,000, and two weeks later she and her son were in San Bernardino, just east of Los Angeles.
Along the way they were picked up by U.S. Customs and Border Protection agents in Texas, who held them for less than a day before releasing them with orders to appear before an immigration judge to plead their case for asylum. Their case will be heard in April 2015, a year after they arrived. The Reyeses are among about 148,000 migrants from El Salvador, Guatemala, and Honduras waiting for hearings in U.S. immigration courts, part of an unprecedented backlog that will take years to clear.
The pileup predates the wave of immigrants who came north this summer from Central America, but the number of people who arrived this year added to the burden. Almost 70,000 children crossed the border alone, along with about the same number of people identified by the government as traveling in "family units." Most of those were kids with their mothers, like Brian and Maria, who has two older sons already in the U.S. but left a toddler home in Apopa with his father.

Those numbers have dwindled, thanks to the approach of colder weather and stepped-up enforcement by Mexican authorities. Yet Texas, New Mexico, Arizona, and California should prepare for another surge of migrants in 2015, says Carl Meacham, director of the Americas program at the Center for Strategic and International Studies in Washington. "The conditions in these countries haven't changed."
After Republicans in Congress blocked comprehensive immigration reform, President Obama promised executive action, first by September and then by the end of the year. A program for expediting preliminary hearings—known among lawyers as "rocket dockets"—has further clogged the system, lawyers say. There are still too few judges and attorneys to take on so many cases, even after federal and state officials began to boost funding for counsel. Fewer than a third of migrants have representation, and without lawyers to represent them, children are much likelier to lose their appeals to stay. "We're sacrificing speed for due process in the courtroom," says Wendy Young, president of Kids in Need of Defense, a group that helps match pro bono lawyers with migrant children.
As of October more than 2,300 children who were caught traveling solo remained in shelters run by the U.S. Department of Health and Human Services, according to agency spokesman Kenneth Wolfe. An additional 45,000 have been placed with sponsors—often relatives, but sometimes family friends or good Samaritans—throughout the U.S. Most remained in Texas, where they crossed the border, or went to states with large immigrant communities suchas California and New York. They've enrolled in school and are halfway through the fallsemester. The Obama administration has warned that most will be deported.
Brian, who's in sixth grade, says he's making friends. His favorite part of the day is recess. He's among the first to volunteer when the kids split into red and blue teams for soccer. He doesn't like the uncertainty hanging over him, but he says, "at least here we're safe."

Before it's here, it's on the Bloomberg Terminal.
LEARN MORE